Listen
Tensions ran high at Friday's immigration forum hosted by U.S. Rep. Raul Grijalva, D-Tucson, and police intervened after hecklers interrupted speeches.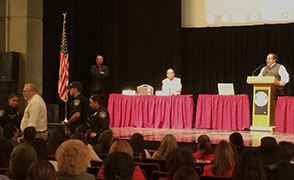 A man is escorted out after yelling at Grijalva

Fernanda Echavarri, AZPM
About 200 people listened to three youth speak at the podium before the protests began in the auditorium of Pima Community College's West Campus.
The children and teens talked about how their lives have been affected by either having parents deported or being undocumented themselves.
Once Grijalva took the podium protestors who were sprinkled throughout the venue began shouting and interrupting his speech.
One man walked out of the auditorium while yelling he would rather self-deport than "listen to this garbage."
Grijalva and U.S. Rep. Luis Gutierrez, D-Illinois, said the forum was intended to be an informational session where people could hear from immigration lawyers about President Barack Obama's executive actions on immigration.
Obama's plan would allow people who have been in the country at least five years, and who have children who are U.S. citizens or legal permanent residents, to defer deportation and receive work permits, assuming they pass background checks and meet other criteria. It would also expand an already-implemented program that gives temporary work permits to young immigrants brought to the U.S. as children.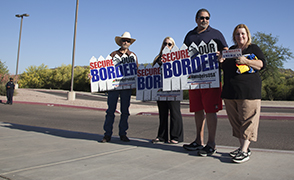 Small group gathered before immigration forum to protest Obama's executive actions

Fernanda Echavarri, AZPM
The day before thousands of people could apply for some of the changes in February, a district judge in Texas placed an injunction on the president's executive actions, preventing the administration from enacting the changes.
The Justice Department requested an emergency stay that would have allowed the federal government to start implementing the program while the case was in court. The request was denied.
On Friday, the Fifth Circuit Court of Appeals heard that request and a decision is expected in the coming weeks.
"I'm going under the assumption that at the end of the day they will be upheld and so people need to be preparing and putting together their documentation that would bring them to qualification," Grijalva said.
A few protesters gathered outside before the event. They equated the president's executive actions on immigration to amnesty.