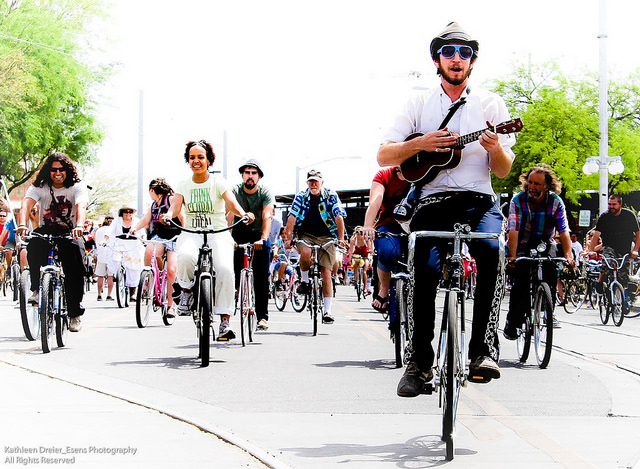 (PHOTO: Photo courtesy: Living Streets Alliance)
Listen
Tucsonans can enjoy great weather and get a little exercise at the same time this weekend. Thousands are expected to crowd downtown streets at the first Cyclovia event of the year Sunday.
Cyclovia closes select Tucson streets to car traffic twice each year, and opens them to cyclists, walkers, joggers and skaters. Event coordinator Kylie Walzak said it helps people realize that cycling is a great alternative to driving.
"We pack this event full with so many activities in parks and schools and business districts, that before they know it, they've gone 5 or 10 miles as if it was nothing," Walzak said.
Sunday's five-mile loop goes from downtown to South Tucson and back. It runs on Fourth Avenue from Broadway Boulevard south to 38th Street, then returns north to Broadway along Eighth Avenue.
Families can enjoy dozens of free street activities and food trucks, with recorded and live music adding to the atmosphere. Anyone can join the route at any point along the path.