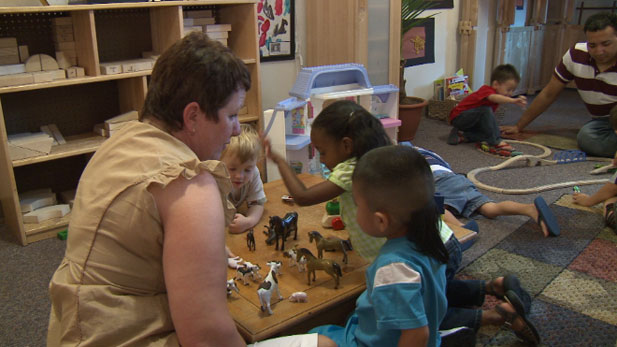 Listen:
A U.S. Department of Education report found the majority of four-year-olds don't enroll in a publicly funded preschool.
In Arizona, 81 percent of 4-year olds do not attend a public early education program, putting the state in the top-10 nationally for high numbers of un-enrolled preschoolers.
Arizona has:

92,778 4-year-olds
3 percent enrolled in state preschool
11 percent enrolled in Head Start Programs
5 percent enrolled in special education preschool
75,118 not enrolled in any publicly funded program.
Included in publicly funded programs are state preschools, special education preschools and programs such as Head Start that provide services to low-income families.
Nationally, 60 percent of 4-year-olds do not enroll.
"It's a cost issue. Childcare and early childhood education is expensive because primarily because you need such high staffing levels," explained David Higuera, the Southern Arizona Director for the Children's Action Alliance. He said he wasn't surprised Arizona is behind.
Higuera and reports from the Education Department say children who attend high-quality preschool are more likely to do better in school when they're older.
"They're much more likely, for example, to be reading at grade level in third grade, which we know from the research...is really a critical milestone," Higuera said.

Higuera says more funding from the state is needed to support these programs.
"All children benefit," Higuera said. "The only question is which children can afford it."
Meanwhile, the U.S. Department of Education used the report to call on Congress to reauthorize the Elementary and Secondary Education Act and improve access to early childhood education.