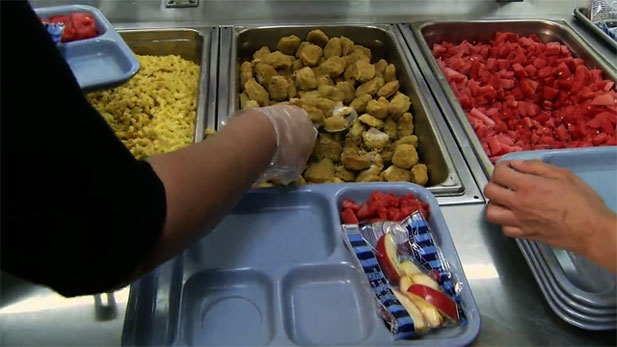 AZPM
Listen:
A study in the journal Childhood Obesity found changes to school nutrition regulations have led to more kids choosing fruit– and eating it, too.
Starting in 2012, schools were required to offer more whole grains, limit sodium and increase fruit and vegetable servings.
"We've always had fruits and vegetables on the menu, but of course once the new meal pattern came into play, we had to beef that up," said Tucson Unified School District Nutrition Program Coordinator Michelle Welsh.
Skeptics of the Healthy, Hunger-Free Kids Act wondered aloud whether more fruits and veggies on plates would lead to more food in the trash.
Researchers at University of Connecticut's Rudd Center for Food Policy and Obesity believe that's not true. Their study found the number of kids choosing fruit increased 12 percent since the new guidelines began.
The more fruit options kids have, the more likely they are to add it to their plate, the study found.
"Typically, fruit is our student's first choice, and we fly through our prepared servings," wrote TUSD Nutrition Coordinator Camilla Loehrer in an email.
She said the study's findings align with the changes she has seen in the district.
The study also found that kids were less likely to choose vegetables, but those who did add green to their plate ate more than before.
"With vegetables it gets a little trickier because kids don't always choose vegetables," Welsh said.

To expand student palates, TUSD jazzes up vegetables such as bok choy in their internationally focused menu called "Fusion."
Welsh said the program has been so popular in high school that the district is adding the Fusion dishes to elementary and middle school menus.