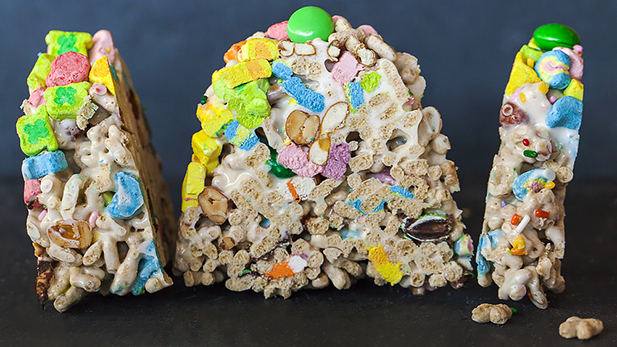 No-Bake Lucky Charms Cake

Courtesy of Jackie Alpers via TasteBook.com
Listen:
Of the hundreds of works that will be showcased this weekend at the Tucson Festival of Books, Jackie Alpers' cookbook Sprinkles! Recipes and Ideas for Rainbowlicious Desserts is bound to be the most colorful.
Alpers studied photography and painting at the Columbus College of Art and Design in Columbus, Ohio and moved to Tucson with her husband more than two decades ago.
Although she has built her career as a cookbook photographer, she was not initially drawn to food photography.
"It used to be a very techy kind of photography," she said. "Where the photographers that were involved in it were into very specific lighting and making fake food look like real food- like making mashed potatoes look like ice cream. And that wasn't something I was interested in."
It was the iPhone, she said, that changed her mind. Suddenly everyone had the ability to take - and share - pictures of their food. Food photography started documenting real food, that real people ate. "That's when I started to take an interest in it," she said.
Sprinkles! Recipes and Ideas for Rainbowlicious Desserts is Alpers's first cookbook. Her editor came to her with the idea for the book.
"She thought I could take the subject and run with it," Alpers said.
She spent six months baking, tasting and acquiring an extensive collection of sprinkles in every shape and size and color.
Her focus was making all of her recipes accessible - interesting for a professional baker, but easy enough for a child.
And she wanted to make everything beautiful- not terribly difficult given her subject.
"Sprinkles brighten up everything they touch," Alpers said. "I'm really fortunate to be able to work with them all the time."
Alpers will be part of a panel discussion called "Mystery of Sweets and Writing Cookbooks" at the Tucson Festival of Books, Sunday, March 15 from 1 p.m. to 2 p.m.
No-Bake Lucky Charms Cake
Originally appeared on The Tastebook Blog
Ingredients 1 large box (20.5 ounces) Lucky Charms Cereal 1 cup mini pretzel twists 2 cup mint chocolate M&M's candies 1 cup beer nuts or shelled dry roasted peanuts, optional 1 (16 ounce) bag mini marshmallows 1 stick (1/2 cup) butter 1/3 cup Rainbow sprinkles (A.K.A. Jimmies)
Instructions 1. Coat a 10-inch bundt pan with cooking spray.
Toss 2 tablespoons of rainbow sprinkles in the bottom of the pan, then add a circle of green M&M's as shown, so that when the cake is un-molded, the extra embellishments are on top.

Separate 2 cups of the rainbow marshmallows from the box of Lucky Charms - this is a good job to assign kids, just make sure they wash their hands first.

In a large heatproof bowl, stir to combine the remaining cereal, pretzels, peanuts, M&M's and sprinkles. Leave the 2 cups of rainbow marshmallows out for now.

Melt butter in a large saucepan over low heat, stirring occasionally. Add mini marshmallows and stir until smooth and fully incorporated. Gently pour the marshmallow mixture over cereal mixture; stir with a large rubber spatula to coat. Then stir in the rainbow marshmallows from the cereal in at the end so that when you transfer them to the bundt pan they will be on the bottom of the pan.

Press marshmallow-coated popcorn mixture firmly into prepared pan. Cover and let set at room temperature for at least 2 hours or until cool and firm to the touch.

Run a butter knife around the sides of the pan to loosen cake. Invert pan onto a serving platter to remove cake. Cut into pieces with a large serrated bread knife.