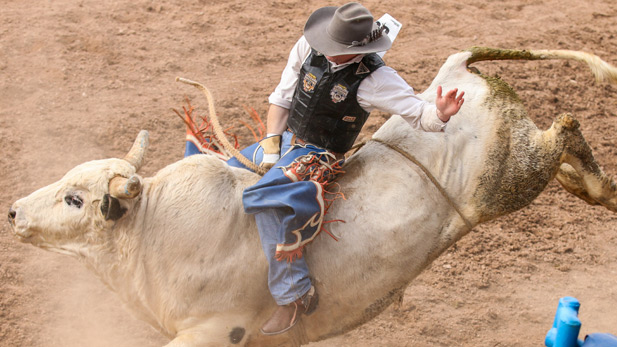 Bull rider at the Tucson Rodeo (PHOTO: Jennifer Vimmerstedt, courtesy of Tucson Rodeo)
By Emily S. Huddleston, AZPM Intern
La Fiesta de los Vaqueros is back and celebrating its 90th anniversary, with four days of professional cowboy and cowgirl competition starting Thursday in Tucson.
The Tucson Rodeo is billed as one of the top 25 rodeos in the U.S., with more than 630 contestants competing in seven events this week for more than $450,000 in prize money.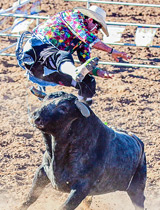 Dusty Tuckness, a rodeo clown at the Tucson Rodeo, jumps to avoid a bull (PHOTO: Jennifer Vimmerstedt, courtesy of Tucson Rodeo)
Rodeo General Manager Gary Williams said in an interview that there are few things that in Tucson that have been around this long.

"We have gone from something that was a tourist attraction, to a major stop on the rodeo tour and to a major event that this community can be proud of," Williams said.
Williams said the rodeo lets folks to get in touch with their western heritage.
"This allows them to come out, dust their boots off, get their jeans out, get their cowboy hat out of the closet, and they can be a cowboy for a week," hje said. "They can be just like those cowboys and cowgirls down in the arena."
Kids will also test their skills on sheep and cows this week. The celebration continues each afternoon through Sunday at the Tucson Rodeo Grounds, South Sixth Avenue at Irvington Road.
Reporting for this story was contributed by Mitchell Riley.