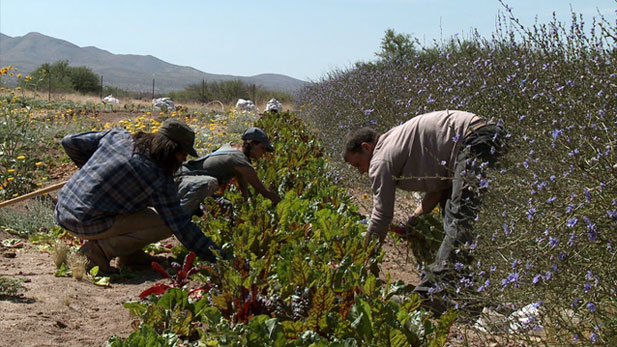 AZPM
Listen:
The deaths of three people and illness in 200 others because of an E.coli outbreak in California spinach in 2006 shook the fresh produce industry.
Since then, farmers in Arizona and California, the two states producing almost all of the nation's leafy greens, have worked to develop new approaches to food safety.
Evidence of the work is visible in a romaine lettuce field in Yuma, where 20 workers emerge from the field and take turns washing their hands.
Before the E.coli outbreak, hand washing wasn't the norm, said Val Sierra, a food safety specialist for Amigo Farms.
"If they did wash their hands, a lot of people would just wet them, wouldn't use soap, probably dry them on their clothes," Sierra said.
Today there are signs posted in English and Spanish explaining the step-by-step procedure for proper handwashing.
"And you have to follow each step correctly in order to go back into the field," he said. "If not, you're not allowed."
In addition to this basic policy, Arizona and California came up with numerous joint strategies under the leafy greens food safety initiative, including testing and recording levels of potential contaminants in water and soil.
Participation in the program is voluntary. Once farmers are in, full compliance is enforced by state audits and with inputs from researchers who are keeping up with the latest in food safety science.
Kurt Nolte, director of the University of Arizona's Yuma Agricultural Center, said the center was the first to discover that drip irrigation - as opposed to using a sprinkler system - reduces the risk of microbial contamination such as salmonella, E.coli and listeria.
That's because this method wets the roots and keeps the leaves drier. But even with all the science in the world, Nolte said, one thing that can't be controlled - "the environment these crops are being grown in."
Waste from wild and domestic animals passing over and through the fields is one of the most common environmental hazards, he said.
Despite that, Nolte said, the program is working. Since 2010, 3 billion servings of raw product have been grown in the Yuma area, without a single significant incidence of food-borne illness.
The federal government is paying attention to that apparent success as it prepares the first national rules on produce safety. But unlike the leafy green initiative, these rules will be compulsory and many small farmers are worried about just how much it will cost them.
Those growers include Larry Park, who has a 5-acre farm near Tucson where he grows lettuce, mixed greens, peppers and turnips.
"If it comes down to where it's going to cost me too much to upgrade all the facilities to pass their inspections, for me to harvest one day and sell the next, then it won't be worth it to me," Park said.
More than half of Arizona farms are small - nine acres or smaller acres. Still, they may be subject to the federal law.
Park said that frustrates him, because the E.coli outbreak in 2006 was a result of practices by corporate farms, not small farmers like him.
An official with the U.S. Food and Drug Administration said his agency will try to minimize the costs as much as possible, but heading off problems is necessary.
"It's to the benefit of the entire produce industry and to consumers that folks are implementing practices that are aimed at preventing problems from occurring," said the FDA's Samir Assar.