Listen
A transgender woman has been held at the all-male detention center in Florence run by Immigration and Customs Enforcement since October, and activists are asking for her release citing physical and verbal abuse.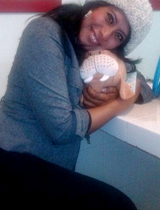 Nicoll Hernandez Polanco (PHOTO: Courtesy of the Transgender Law Center)
Nicol Hernandez Polanco is a Guatemalan immigrant who turned herself in at the international port-of-entry asking for asylum after "suffering nearly a decade of sexual and physical violence in Guatemala and Mexico because of her gender identity," according to
Mariposas Sin Fronteras
.
The Tucson LGBTQ group, which is Spanish for Butterflies Without Borders, the Transgender Law Center and other immigrant rights organization are demanding Hernandez-Polanco's release.
"In addition to the harassment of the guards, Nicoll is also particularly vulnerable to abuse from male detainees, Nicoll is required to shower with, use the restroom with, and sleep in the same room as men," according to a press release from Mariposas Sin Fronteras. "As a result, in early December, Nicoll was sexually assaulted by another detained immigrant. Despite immediately filing a complaint that facility staff has purportedly been investigating, the conclusions of any investigation have not been disclosed to Nicoll."
The organization said although "her attacker was initially separated from her, the two were later housed in the same sleeping unit temporarily."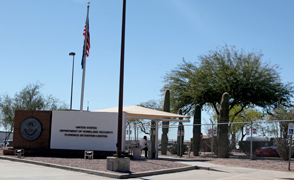 ICE detention center in Florence

Fernanda Echavarri, AZPM
Arizona Public Media requested an interview with the detainee and after three weeks Immigration and Customs Enforcement did not facilitate the interview.
On Feb. 11, a spokeswoman with ICE said the agency would allow reporters inside the detention center in Florence to interview Hernandez-Polanco in March.
"U.S. Immigration and Customs Enforcement is firmly committed to providing for the safety and welfare of all those in its custody," the agency wrote in a media release. "ICE has a strict zero tolerance policy for any kind of abusive or inappropriate behavior in its facilities and takes any allegations of such mistreatment very seriously."
Raul Alcaraz-Ochoa, with Mariposas Sin Fronteras, is asking for Hernandez-Polanco to wait for her immigration court hearing outside of the detention center because of her circumstances.
Because she has been apprehended crossing the border illegally twice before, he said, ICE considers her a flight risk.
"But what she wants is aslyum here, she's not a flight risk," Alcaraz-Ochoa said.