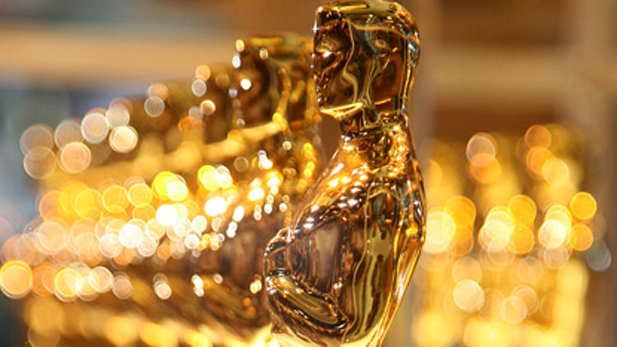 The most powerful entity in Hollywood? Rows of Oscar statues awaiting to be deployed at the Academy Awards.
On Sunday, the Academy of Motion Picture Arts & Sciences will present its 87th Annual Academy Awards show, an event that is both loved and hated by film fans.
Some find its glamorous pageantry and earnest celebration of cinema history to be must-see-TV. Others might say those trappings only mask the Awards' popularity contest roots, and subservience to fads and Hollywood social politics.
Film writer Chris Dashiell offers his own take on what the Academy Awards have come to mean...
Listen:
My problem with the Academy Awards is that the immense prestige associated with them is undeserved. I talked about that last year on Arizona Spotlight, so I'll leave it at that. But what about the show itself, the annual Oscars presentation?
Almost every year I vow not to watch it, but I usually break that promise. Sure, it's fun to get together with friends to make fun of the clothes, the gaffes and tastelessness, the pretentious feeling of it all. That's definitely part of it, but not all.

Starting as a rather small and intimate gathering, by the end of the 1930s the Oscars had become a major production. Of course it wasn't until television came along that they really took off, and I think the star system is the main reason.
A big part of the appeal of Hollywood stars was that movie fans would identify with them, project their own feelings onto them. If you really loved a particular star, then the excitement of the Oscars would be in rooting for your favorite to win. Plus it was a chance to see the stars in their natural habitat, so to speak, outside of a film.

The whole star-based popular culture just got bigger and bigger over the years, and now, of course, it's huge. Not so coincidentally, the awards shows for film and TV have multiplied as well. The Golden Globes, the People's Choice, the Screen Actors Guild, and many more. Most of them are televised too, so we're saturated with these shows to the point where it just seems ridiculous for there to be so many of them. The Oscars are like the finale of these fireworks, and I know some people who hardly go to the movies at all, but still enter an office Oscar pool trying to predict the winners.

The red carpet, which started as a way for fans to applaud for their favorite stars arriving at the show, is now a ritual in which the actors, particularly the actresses, get interviewed briefly and show off their glamorous outfits.
The show itself has a host who tells jokes, celebrity presenters, performances of nominated songs, and various tribute clips and montages. Every year they try to entertain us, but the trouble is, in that respect it's usually pretty dull. The routines and lines from the presenters are awkward and unfunny more often than not.
And, throughout the night, all the self-congratulatory rhetoric about how wonderful and magical and inspiring movies are, gets laid on really thick. What the producers don't seem to understand is that really all we want to see is the people getting their awards. Instead of cutting them off with music, for instance, because they think the show's too long, they should just let them talk.
I remember the year Martin Landau won for Best Supporting, after a lifetime of unappreciated work, and the music started playing before he'd barely gotten started. "No, no stop!" he cried. I agree, they should stop.

To make matters worse, in recent years, they've banished the honorary awards for veteran stars and filmmakers to a different night that's not televised, eliminating any sense of Hollywood tradition. Yet they do find the time to show us Mark Wahlberg talking to a teddy bear. I get it. They want to attract younger viewers, but in the process they're demonstrating how little they really care about movies.
Well, after having said all that, I still have to admit I'll be watching. Because a secret part of me still likes to gawk at movie stars, and wants to see Julianne Moore win for Best Actress. Which I'm predicting she will, along with Eddie Redmayne for actor and Birdman for best film.
But—please don't quote me, unless it turns out I was right.
For Arizona Spotlight, this is Chris Dashiell.
Who is Chris Dashiell?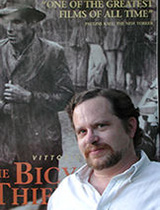 Film reviewer Chris Dashiell
Chris Dashiell has been writing about movies for seventeen years, serving as the editor of the online film lovers' guide Cinescene for ten of them. He currently reviews films for Flicks, a weekly program on Tucson's community radio station KXCI, and he confesses to shamelessly idolizing Carl Dreyer, Jean Renoir, and Luchino Visconti.