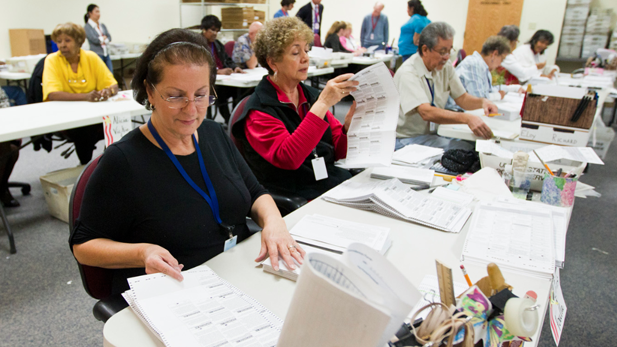 Pima County Elections Department workers process early ballots after the 2012 election.

Pima County Communications Department
Listen:
The Arizona House Elections Committee will consider several bills Monday that will alter state laws governing campaigns, voting and the timing of elections themselves.
Among the bills being considered is one that would move up the state's primary election starting next year, making it in May rather than the current August. The idea, supporters said, is to give Arizona more of a say in presidential nomination selection.
Also before the committee Monday is a bill that would further restrict the Clean Elections effort by requiring candidates trying to qualify for the public funding to collect their required $5 donations via personal or cashier's checks rather than cash.
With a majority of ballots in the state now being cast early, the committee also will take up a bill allowing voters who cast such ballots or who use provisional ballots to fix any problem with the ballots up to 10 days after the election.
That presumably would include correct signatures on ballot envelopes and other adjustments to keep ballots from being disqualified.
The presidential primary bill echoes a Republican effort iIn 2012, led by then Gov. Jan Brewer, to hold the Republican presidential primary election in February, in defiance of the national Republican Party. The primary led the state's Republican voters to back Mitt Romney, the eventual nominee.
It also led the national party to cut in half the number of delegates Arizona could send to the convention.