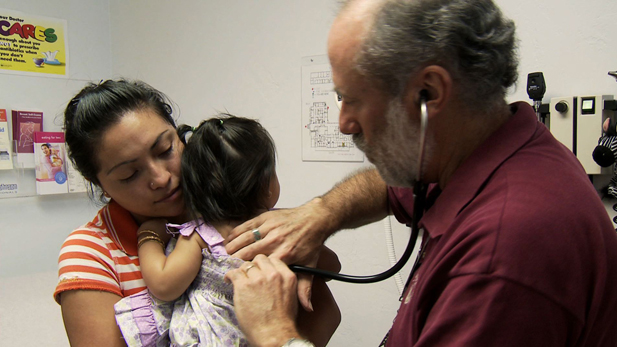 AZPM
Listen:
One of the most common complaints about the new federal marketplace for health insurance is how to sign up.
The deadline is Sunday, and that recently led Tucsonan Philip Henniges to seek help at an enrollment event at Tucson High Magnet School.
It's been a long time since Henniges has had insurance - years, in fact - and he had a few reasons for seeking help.
First there is the threat of a federal fine for not having insurance.
"That's a good motivator," he said. "I don't want to be fined for something that I should normally have any way."
But it's not just about the penalties. He said he would also feel more secure with insurance.
"As I age, I hope to properly use the health care system for what its meant to be," Henniges said. "Instead of just saving myself for emergencies, and going to the emergency room. I want to actually be able to take care of myself on a regular basis."
Henniges tried once to get insurance through the marketplace, but got stuck in the online signup process. That's why he came here - to get help from one of the people trained on navigating the healthcare.gov website.
Damian Alzua, from the Pima Community Access Program, met with Henniges to start the process and figure out how much of a subsidy he will qualify for.
David Sayen, regional administrator for Medicare and Medicaid, said the average Arizonan qualifies for a subsidy of $158 each month. He said that level of assistance has come as a surprise to many of the people signing up.
"I've been to enrollment centers in Arizona, Nevada, California, and I've seen people come in and they're pleasantly surprised that they can get coverage for less than they thought it would cost and certainly less than what it would cost in the past," Sayen said.
To get a subsidy, customers have to know how much they earn, which can be a challenge, Alzua said.
"That's I think the main thing that I think we probably spend the most time on answering," he said. "Some people come in who are, 'I'm working a temporary job or I'm going to get a new job,' and so we have to figure out what 2015 is going to look like? "
It also proved to be a challenge for Henniges, who works with special education students at Catalina High Magnet School. He knows what he takes home ever other week, but not his annual gross salary.
Alzua and Henniges set out scribbling calculations and tapping numbers into calculators on their phones to ballpark his annual salary.
Sayen, meanwhile, had one message for people who haven't taken the step that Henniges was taking.
"In today's world with the medical technology that's available to people, almost everyone has the opportunity to live a long, happy and healthy life," he said. "But if some problem befalls them, if they don't have insurance, that's going to be their primary risk of bankruptcy and debt, and there's a chance they might not be able to get the care they need."
Click here for a list of enrollment events this weekend.