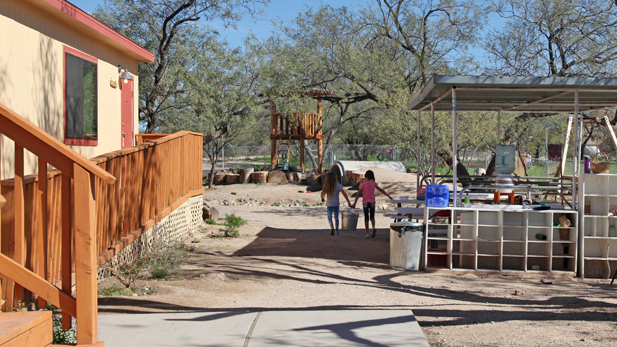 Two girls at the Tucson Waldorf School, 3605 E. River Road.

Fernanda Echavarri, AZPM
Listen
Most kindergarteners in Pima County have been vaccinated against infectious diseases such as measles, with vaccination rates ranging from 80 percent to 100 percent. But one school stands out in the data.
Fewer than 40 percent of kindergarteners at the Tucson Waldorf School have been fully immunized.
All the parents at Waldorf who chose not to vaccinate their children have signed waivers using the personal or religious belief exemption, said Rebecca Briamante, enrollment director at the school.
Child immunization "is between the parent and the pediatrician," Briamante said. "We see the school's role to support the parents. Our realm is education, not medicine."
Seven measles cases have been reported in Arizona so far this year, five in Pinal County and two in Maricopa County, according to the Arizona Department of Health Services.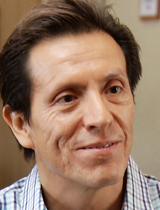 Francisco Garcia, M.D., director, Pima County Health Department. (PHOTO: AZPM)
Pima County has not had any measles cases, said Francisco Garcia, director and chief medical officer of the Pima County Health Department.
Measles is a highly contagious disease that becomes airborne through coughing and sneezing. It starts with a fever, then a rash that spreads all over the body. In some cases it can lead to pneumonia, swelling of the brain and death.
Garcia said babies are at most risk for measles, because they cannot receive the vaccine until they turn 1. Also at risk are children who have allergic reactions to vaccinations or autoimmune conditions that prevent them from getting vaccines.
"That's actually part of the reason why it's absolutely critical that all of us who can be vaccinated are vaccinated," he said.
Garcia said he is in constant contact with other counties' health departments and school superintendents, "and our department is prepared to respond to an outbreak," he said.
State law requires parents who do not show proof of immunization for their children to sign waivers to enroll in school. The form gives parents four possible exemptions: religious, temporary medical, permanent medical or lab evidence of immunity.
Most parents opting out of vaccinations are doing so for religious or personal reasons, and Waldorf reflects the county trend.
"For a lot of parents, it's a very emotional sometimes," Briamante said. "It can be very intense, and people have very strong beliefs. But in our parent population I know that no matter what actions they take there's a lot of respect for varying points of view."
Some parents have cited a link between autism and vaccines for opting out of full immunization. However Autism Speaks released a statement saying extensive research has "clearly shown vaccines do not cause autism," urging parents to fully vaccinate their children.