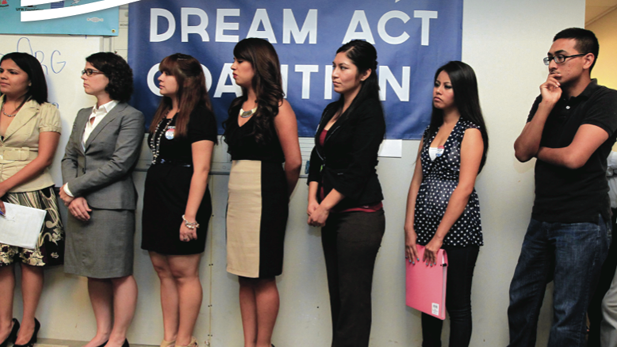 Arizona applicants for Deferred Action for Deportation, in September 2012.

Center for American Progress
Listen:
Arizona has been issuing driver's licenses to young immigrants for two weeks under a federal judge's order, but the legal fight is continuing.
Lawyers from both sides of the case appeared in U.S. District Court Wednesday to ask Judge David Campbell to decide the case in their favor without a trial.
Lawyer Araceli Martinez-Olguin represents the plaintiffs, young immigrants who qualify for work permits under President Barack Obama's deferred deportation action. They had been denied driver's licenses under Arizona's policy.
"What we want the judge to rule that he doesn't need to have a trial... that he has enough information to enter judgement for us," Martinez-Olguin said.
Lawyers for the state argued the appeals court did not have all necessary information when it blocked the policy and said Campbell should allow the state to deny the licenses to these immigrants.
Former Gov. Jan Brewer, whose executive order banning driver's licenses led to the court action, has said it is a matter of states' rights.
So far, Arizona has spent more than $1.5 million in legal bills to defend its license ban.