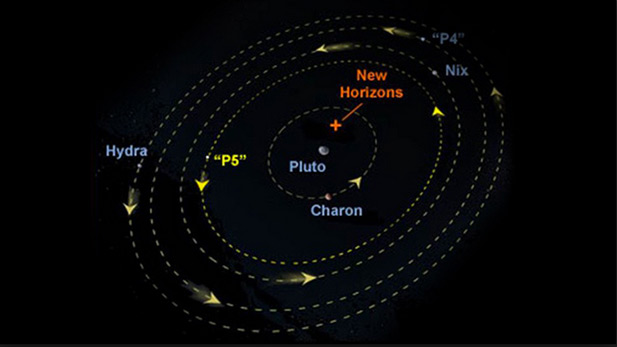 NASA
Story by Tony Perkins
Arizona Public Media
Listen:
Scientists are re-starting the New Horizons spacecraft as it nears Pluto, and they will also re-ignite the debate over whether Pluto should be classified as a planet.
It wasn't long ago that science teachers told grade schoolers that our solar system included nine planets. The textbooks called Pluto the smallest planet in the solar system, and the one orbiting farthest from the sun. But in 2006, astronomers re-classified Pluto as a "dwarf planet," too big to be an asteroid, and too small to be part of the sun's immediate family.
Mark Skyes, CEO of the Planetary Science Institute in Tucson, spoke out as one of the voices against Pluto's demotion to "dwarf" status.
"There are a number of definitions for planets. The International Astronomical Union says that a planet is an object that orbits the sun that is big enough to have cleared the orbit of debris over the age of the solar system," he said.
Sykes admitted Pluto is too small to pass that particular test. But he added that doesn't matter to him and his colleagues.
"We're not as interested about their effects on things in their orbits," he said. "We're interested in their nature, their characteristics, and their relationship to the Earth."
NASA launched its New Horizons spacecraft shortly before Pluto lost its planetary credentials. The robotic explorer is almost the same size as a baby grand piano, and flew in silence to save power. But mission controllers are now turning-on its cameras and scientific experiments, after a nine-year, 3-billion mile journey from Earth. Sykes said he expects some surprises.
"Pluto has an atmosphere. Pluto has many satellites. It may have a ring system. Pluto and Charon, its largest moon, is actually a double system. And, since Charon is surrounded by its own gravity, then that would make it a double planet," he said.
Scientists began sending spacecrafts to the outer planets more than 25 years ago. Each encounter added to their base of knowledge, and an on-going revision of the rules that determine what a planet should look like. Sykes said New Horizons can give Pluto a chance for redemption.
"My message to people is to challenge authority," he joked. "Pluto is and continues to be a neat system. A lot of scientists like myself, when we write our scientific papers, identify them as planets. So for us, not a lot has changed. But when we see Pluto up close and personal, that it will be revealed as like other planets."
It could be a planet more like the Earth than some scientists are ready to admit.