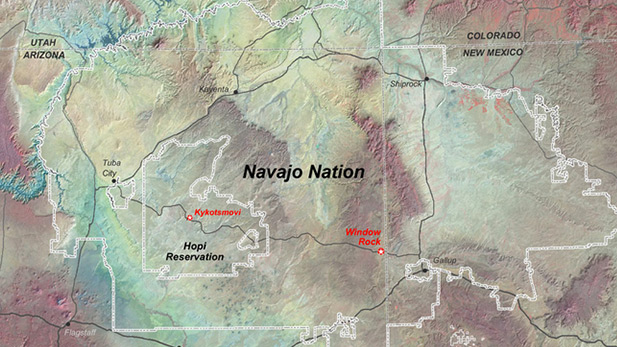 (PHOTO: Public domain)
Story by Laurel Morales
Fronteras Desk
Listen:
LISTEN
A revived grow-your-own-food program is expanding on the Navajo Nation as a way to combat food insecurity.
A federal grant to turn 100 acres of fertile land in the village of Leupp into a blue corn operation could help reduce the number of hungry people on the reservation.
One of every five people is food insecure on the Navajo Nation, meaning they may not know the source of their next meal, says a report from Johns Hopkins University researchers.
Hunger on the reservation came to the fore last winter when a Navajo elder froze to death after trying to walk from her remote, snowbound home to find food.
Leupp, in the southwestern corner of the Navajo Nation, is an example of what drives food insecurity. Leupp has a convenience store, which resident Stacy Jensen calls an "inconvenience store" for its lack of fresh produce and meat.
The nearest grocery store is 80 miles round trip. So Jensen grows his own corn, squash and melons just like his family did when he was growing up.
After studying at Northern Arizona University, he returned to Leupp to teach people about growing their own food to improve their health. Forty percent of Navajos 45 years of age and older suffer from diabetes.
"So when I came in 2005 I thought what the heck's going on over there," Jensen said. "The farm itself was sort of at a standstill."
The fertile soil next to the Little Colorado River laid dormant. Today about 30 families grow their own crops to eat.
"I've always said if they have extras take it out to the roadside and sell it at the swap meet, and that's how they get a little bit of income from their hard work," he said.
Now the farmers have the opportunity to make more money. Jensen recently won a U.S. Department of Agriculture grant to turn part of the farm into a blue corn farming and processing operation.
The Native American Business Incubator Network is supporting the operation. The network's Jessica Stago said the program will improve life for Leupp's residents.
"It will provide food not only for families themselves, provide food to schools," Stago said. "It really has a lot to do with food security. It has a lot to do with providing an economic base that's already here."
One of the farm's customers will be the nearby Star School. The students often come to help plant seeds and harvest.
"There are a lot of families who rely only on the school system to feed their kids," Stago said.
North Leupp Family Farms has the water and land permits it needs and now it has funding from the USDA to sustain the program. The group needs $13,000 to match the grant.
Jensen and Stago said they hope to get the business off the ground in the next three years.