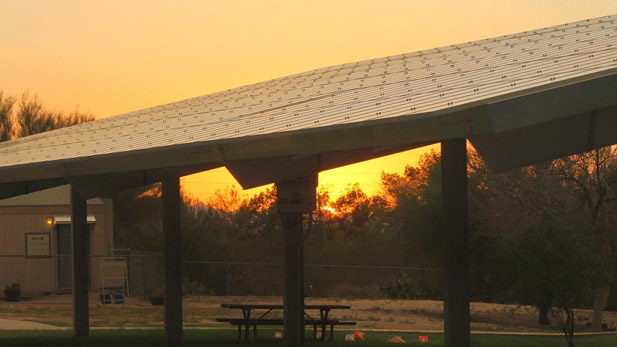 AZPM Staff
Listen:
The Arizona Corporation Commission recently proposed changes to its Energy Efficiency Rules. The commission sees the change as a way to keep standards realistic. But an outside group argues it is a gutting of a highly progressive law.
The commission released a draft of possible changes to the rules it set in 2010. These rules call for the state's utilities to reduce electricity use by 22 percent and natural gas use by 6 percent by the year 2020.
To accomplish those reductions, utilities are allowed to charge a small fee to customer bills - a few dollars a month.
"One thing we know is that number is either too high or too low," said Corporation Commissioner Gary Pierce, who drafted the proposed changes. "It is a complete shot in the dark to set something and move towards it."
Pierce said his proposal is built on the notion that setting long-term goals is ineffective.
He'd rather see a system similar to that in Massachusetts, where energy efficiency targets are set every three years.
"We're proposing to do it biannually, and just keep going and making sure we purely have programs in place that are cost-effective and are not abusing the customers who pay for every one of these programs. It's not the utilities that pay for these programs," he said.
In switching to this system, the 2020 goals would be removed, and new goals periodically set.
"This is a terrible proposal," said Ellen Zuckerman, who is with the Southwest Energy Efficiency Project, a group dedicated to keeping efficiency a priority throughout the region. "If we remove this accountability, we will pay for it. It will cost us billions of dollars, it will fleece Arizona ratepayers, and enrich utility monopolies."
Her argument against removing the goals is the loss of long-term responsibilities. And she said she worries that the commission could soften the standards further. That would increase the amount of power the utilities would need to provide to consumers, she said.
And more power consumed means more money being paid to the utilities.
"This proposal is the embodiment of government waste," she said. "It would completely gut a program that already works, and replace it with a result that is wasteful and expensive..."
As a big accomplishment: "We've already saved Arizona half-a-billion-dollars," she said.
Pierce argued that some re-evaluation is needed now, thanks to all of that success.
"In evaluating these programs, we figured out that we pretty much picked all the low-hanging fruit of energy efficiency, and so it's getting more difficult to come up with programs that are cost-effective," he said.
Pierce said it comes down to making sure the money that the utilities charge customers to increase efficiency is used wisely.
"People don't mind participating, they just don't want to overpay for it, and all we're doing here is making sure they don't overpay for it," he said.
But Zuckerman said she worries the proposal could mean the death of an effective program.
"The energy efficiency program that we have in Arizona is by far one of the best in the country. It's really incredible. The program has already accomplished a phenomenal amount in just three years," she said.
Pierce said he does not anticipate the Corporation Commission will come to a conclusion on the proposal this year.
That means changes to the state's Energy Efficiency Rules won't be taken up until after Pierce's term is up in January, and a new commissioner takes his seat.
Republicans Tom Forese and Doug Little were elected to the Corporation Commission this election, and will start their terms in January.