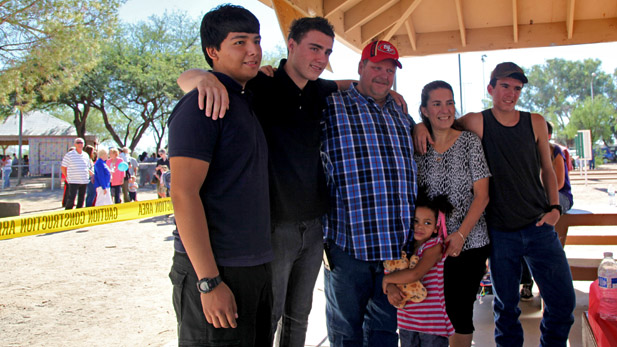 Tyler (second from left) celebrating his adoption into the Woelfle family with his new parents and siblings.

Fernanda Echavarri, AZPM
There are more than 3,800 children in Pima County's foster care system and many of them are teenagers, a group that is often overlooked when it's time to adopt.
At the 14th annual Pima County Adoption in the Park event, 99 children, from infants to 17-year-olds, were adopted at Udall Park on Nov. 8.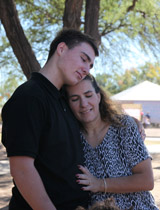 Tyler hugging his new mom Peggy Woelfle (PHOTO: Fernanda Echavarri, AZPM)
One of them was 15-year-old Tyler, who was adopted by his foster parents Ben and Peggy Woelfle.
"It's a struggle, living in foster care and group homes is not fun...so if you can find the right family, it could be wonderful," Tyler said.
The Woelfle's became foster parents a few years ago, giving their biological son brothers and sisters from different backgrounds throughout the years.
"When we met Tyler we just fell in love with him and we knew he would be a good fit for our family," Peggy said.
Before adopting Tyler, the Woelfle family adopted a teenage boy and a baby girl.
They continue to foster children and currently have five teenagers, a 3 year-old and a 10-month-old at home, something that requires a lot of scheduling, they said.
"A lot of people look at teenagers and think, 'Oh they're too old, they are too set in their ways' and that's not the fact at all," Ben said. "Teenagers cannot be missed, they're kids too and so many teenagers miss out on a family when they shouldn't...when all they need is love."
Listen to their story here: