Story by Laurel Morales
Fronteras Desk
Listen:
Arizona's 1st Congressional District covers nearly two-thirds of the state, including 12 tribal nations, which means candidates in the election campaign are seeking the Native American vote.
Democratic incumbent Ann Kirkpatrick is seeking re-election for a third term in the U.S. House.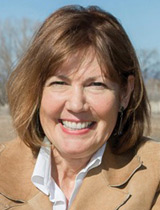 U.S. Rep. Ann Kirkpatrick.
Arizona Speaker of the House Andy Tobin.
In her two terms in office, she's fought for impact aid for native schools and funding to repair a reservation highway. She voted for the Affordable Care Act, which provided continued funding for Indian health, and she helped expand health care for rural veterans.
Kirkpatrick's not Native American, but she was raised on the White Mountain Apache Reservation, where her father ran the general store.
"I grew up on tribal land...so I know first hand the struggles they go through and I really want life to be better," she said.
Some critics doubt Kirkpatrick's voting record on environmental issues in native land.
Kirkpatrick has co-sponsored a bill that would allow one of the largest copper mines to be built on land considered sacred by the San Carlos Apache Tribe.
Unlike Kirkpatrick, Republican challenger Andy Tobin was born in New York and lives just outside the district. But he said he knows rural Arizona and he has recognized that the Native American vote in this district is critical.
The question is, how is it critical?
"Really the game in this district is about turnout," said Stephen Nuno, a political science professor at Northern Arizona University.
He said minorities make up almost half the district and they usually vote Democrat. Republicans will benefit if minorities, including Native Americans, don't vote.
"The higher the turnout, the less likely they are to win this district," he said.
Until recently, that turnout was expected to be up, as the Navajos should have been voting on a new president Nov. 4. But that presidential election has been postponed, which means voter turnout may well be down.