Listen:
Discussing immigration this election cycle in Arizona means talking about the influx of unaccompanied Central American children and the rebirth of the sanctuary movement, a shift from the focus of previous elections.
In 2010, Arizona's anti-illegal immigration law, known as SB 1070, and its implementation took center stage. Two years later, border security seemed to be in the spotlight. This year, much of the focus is on the human side of immigration, political experts say.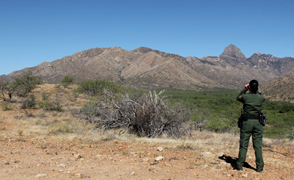 AZPM
"The issue of the migrant children is present today, it's an entirely different sort of immigration chain and an entirely different issue," said Arizona's Republican National Committeeman Bruce Ash.
In the first eight months of 2014, about 60,000 unaccompanied children and teens were apprehended crossing into the U.S. illegally. Most of them were from Central America and the majority crossed through Texas, according to U.S. Customs and Border Protection data.
The spike in young migrants overwhelmed the federal government and sparked a nationwide debate on immigration policies.
Business leaders, conservative groups, immigrant rights organizations, religious communities and labor rights groups have all pushed for immigration reform "but politics is standing in the way," said Vince Rabago, chairman of the Latino Caucus for Pima County's Democratic Party.
He said despite the national attention immigration is getting this election cycle, in Arizona, immigration is not a key issue for either voters or candidates.
But Ash said immigration and border security continue to be key issues in this election cycle.