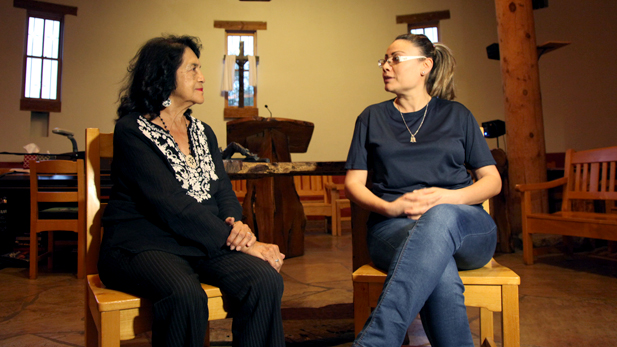 Civil rights leader Dolores Huerta visits Rosa Robles Loreto, an immigrant in sanctuary avoiding deportation

Fernanda Echavarri, AZPM
Listen
Civil rights leader Dolores Huerta was in Tucson Tuesday night and visited the Mexican immigrant living in sanctuary at the Southside Presbyterian Church.
"Immigrants like Rosa are not taking anything away," Huerta said. "They're making this a better place to live."
Rosa Robles Loreto has been living in sanctuary for more than 40 days to avoid deportation.
Huerta encouraged the 41-year-old mother of two to remain strong and told supporters at the church she hoped to see more churches giving sanctuary.
"Especially the Catholic Church," she said.
Huerta, 84, co-founded the National Farmworkers Association with Cesar Chavez and has been advocating for the civil rights of women, LGBTQ and immigrants.
Huerta said she wrote a letter to the Secretary of Homeland Security urging him to allow Robles Loreto to stay in the U.S.
In 2012 Huerta was awarded the Presidential Medal of Freedom and visited the White House to receive the medal from President Barack Obama. She said she hopes her support for Robles Loreto will influence immigration officials.
Robles Loreto has said she will remain at the church until her deportation order is lifted.