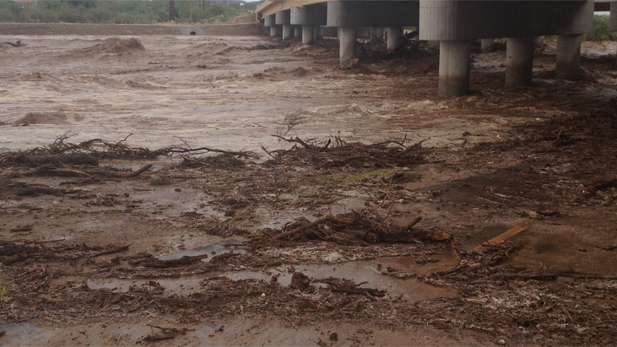 Flooding underneath La Cholla bridge at the Cañada Del Oro Wash in Tucson.

Mackenzie Greer
Listen to details on Odile:
Listen to in-depth on where heavy rainstorm water goes:
Remnants of Hurricane Norbert in the Pacific Ocean dropped about 4 inches of rain throughout the Tucson area in just a few hours last week. The National Weather Service says heavy rains are expected in the Old Pueblo and other parts of Arizona this week, too, as Tropical Storm Odile passes through the Baja California coast.
But aside from the chaos brought by recent floods, that rainfall is welcomed, for the most part, because the Sonoran Desert is parched from years of drought. Most of that water ends up in the ground.
"Most of our aquifer recharge comes in these very brief times, these kind of punctuated events," said Jim Leenhouts, director of the U.S. Geological Survey's Arizona Water Science Center. "...major recharge events happen every ten years or so."
Most typical Arizona storms drop modest amounts of rain. Leenhouts said the dry air, soil and thirsty plants in the desert easily take in the water dropped by smaller storms.
"You reach a threshold and beyond that you're starting to recharge your aquifers," he said.
The Arizona Department of Water Resources' Jeff Tannler said slower, more sustained storms are often better.
"A typical winter rain event might go for a few days. And come on gradually, where the water has more of a chance to soak in," he said.
Those slower storms allow water to sink in, letting it refill aquifers near where it falls.
Regardless of the time of year, the severity of the storm, or any other factor, Leenhouts said any rainwater seen in a Southern Arizona wash, river or stream is pretty much guaranteed to end up in one place.
"It's pretty amazing when you stand on the bridge at Congress and the river is rushing, to think of all of that water infiltrating into the sediments of the desert and going into the ground is pretty amazing, but that for the most part is what happens," he said.
Tropical Storm Odile made landfall Monday near Los Cabos on Mexico's Baja Peninsula. The storm has weakened from its original category 3 strength, but will probably still bring heavy rainfall to Southern Arizona this week.
There are flash flood warnings in most of the state.
National Weather Service meteorologist Glenn Lader said it may bring a more direct hit to the state than did the remnants of Hurricane Norbert last week.
"Norbert more or less stayed offshore and shoved its moisture indirectly into Arizona," he said. "What we're seeing with this, the latest indications are portions of Odile could perhaps move across Southern Arizona Wednesday into Thursday."
Three to 5 inches of rain could fall over the course of the storm, which forecasts say could start Tuesday night and stretch into Friday.