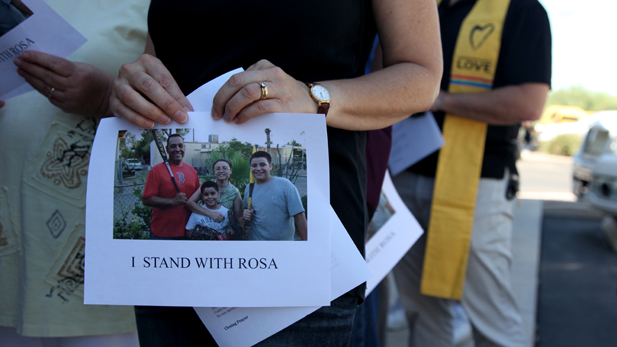 Faith-based leaders and immigrant rights activists outside Tucson's ICE offices.

Fernanda Echavarri, AZPM
Listen:
Religious leaders and immigration rights activists gathered outside Tucson's Immigration and Customs Enforcement Thursday asking the government to allow the Mexican woman living in sanctuary to stay.
Rosa Robles Loreto has been living at the Southside Presbyterian Church since Aug. 7 and plans to stay there until her deportation order is removed.
The Mexican immigrant's lawyer, Margo Cowan, said the group delivered the letter Thursday because that was the day Robles Loreto was required to check-in with ICE officers.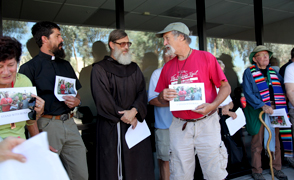 Religious leaders want ICE to remove deportation order for woman in sanctuary.

Fernanda Echavarri, AZPM
"We are here to check in for her," Cowan said.
The letter listed supporters in Southern Arizona, including Rep. Raul Grijalva and Tucson Mayor Jonathan Rothschild, who have written letters to the Department of Homeland Security asking for Robles Loreto's case to be closed.
"After conducting a thorough review of Ms. Robles Loreto's immigration case, U.S. Immigration and Customs Enforcement has decided to exercise prosecutorial discretion by not taking immediate action on Ms. Robles Loreto's removal order," according to an agency email.
That does not mean that if the 41-year-old mother of two is pulled over for a traffic violation that immigration officials would not be called to detain her, Cowan said.
This is the second case this year for the church that started the sanctuary movement in the 1980s.

In May, a Mexican man was granted one-year stay in the U.S. after living in sanctuary at Southside Presbyterian for four weeks.
Last week a Guatemalan man went into sanctuary at a Tempe church.