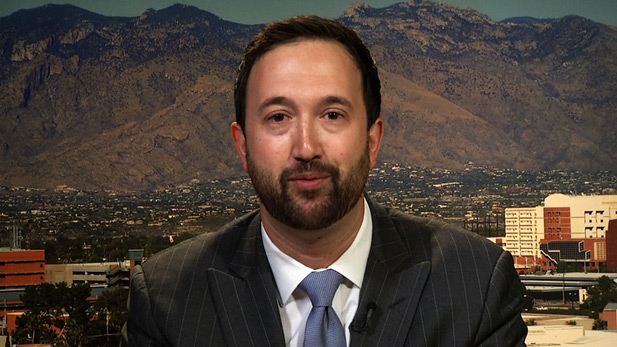 Republican state Rep. Adam Kwasman of Oro Valley.

AZPM Staff
Listen:
Arizona congressional hopeful Adam Kwasman has announced he has cancer.
It is a form of slow-growing blood cancer, which he said hasn't presented any symptoms and hasn't affected his campaign vying for the Republican nomination in the Congressional District 1 race.
"I'm going to live for a long, healthy life. This is a treatable form of cancer," he said.
Kwasman learned he had chronic lymphocytic leukemia last year, but didn't tell the public because symptoms hadn't emerged. Kwasman added he will likely require no treatment for at least a decade, and he is undergoing quarterly testing to keep tabs on the diagnosis.
He decided to disclose his illness because rumors had allegedly spread that he was sick. He said the timing was solely about rumors, and not related to the congressional primary election in less than two weeks.
"As soon as rumors started flying around we had to make sure that the public had the correct story. Frankly, there's no good time for telling people that you have cancer," Kwasman said.
Kwasman added he will not be dropping out of the race, and the diagnosis helped inform his opposition to the Affordable Care Act, including Arizona's expansion of its Medicaid program last year.
"At least I can tell a personal story of someone who is young, who's been diagnosed with cancer, but is healthy," he said.
State House Speaker Andy Tobin, who also wants the CD 1 Republican nomination, sent Kwasman a message via Twitter.
"All our prayers and best hopes for the Kwasman family," he said. "We sincerely wish Adam Kwasman our very best."
Republican Gary Kiehne, also running in CD 1, sent a similar Twitter message to Kwasman, wishing him "the best with his battle with cancer."
"I know Adam has the strength and commitment to beat this fight," Keihne said in a tweet.
Kwasman, 31, is a first-term legislator from Oro Valley. He was elected to the state House in 2012.
Kwasman announced his candidacy for Congress last fall.
Whoever wins in the primary Aug. 26 will face off Democratic incumbent U.S. Rep. Ann Kirkpatrick in the November general election.
The Associated Press contributed to this report.