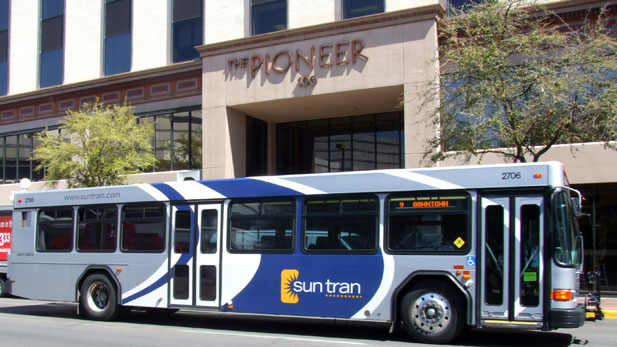 Listen:
Tucson is seeking a developer to convert the downtown Ronstadt Transit Center to a mixed-use, revenue-generating site, while maintaining the transit hub.
The city asked for proposals from developers that could incorporate housing, retail, open space for festivals, and transit on the 4.7-acre site near East Congress Street and North Sixth Avenue downtown.
The preliminary proposals, due Aug. 28, will be whittled down before the city asks for a second round of more specific proposals, said Nicole Ewing Gavin, the city's integrated planning director.
"Right now the site consists of the Ronstadt Transit Center and two parking lots to the north," she said. "We're looking at that site kind of as a whole, and we're looking for a developer who would come in with a vision to bring additional private development."
That definition is flexible, she said, but must include transit.
"It might be housing or retail or private office space, and also incorporate a transit center into that," she said.
The goal is to create revenue-generating properties Tucson can use to upgrade the transit center, she said. Expanding transportation options would meet the goals of the Downtown Tucson Partnership, which works with business owners and promotes the city's core, said Michael Keith, the partnership's CEO.
"We did a presentation from two years ago showing site after site that had done these mixed use, high-density, transit-oriented developments either adjacent to, or sometimes on the same site as transit," he said. "We're not breaking ground here, we're following in the footsteps of a lot of other communities."
It has been a model for success in U.S. and international cities.
"This is going to put us on the map with Portland and Austin and other places that have accomplished these combinations," Keith said.
Tucson hopes to choose a developer and negotiate terms for the city-owned land by early next year. That can include negotiating some incentives such as parking or infrastructure needs, Gavin said.