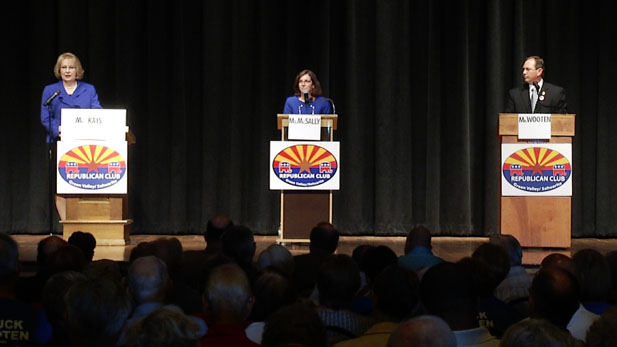 Republicans Shelley Kais, Martha McSally and Chuck Wooten are seeking the party's nomination in Congressional District 2.

AZPM Staff
Listen:
The three candidates running for the Republican nomination in Congressional District 2 agree health care and immigration are two of the most pressing issues for the next Congress to solve.
The candidates are vying to compete against incumbent Democrat, U.S. Rep. Ron Barber, and they squared off in a debate Saturday in Green Valley about many of the federal issues they will likely weigh in on if elected to Congress.
The candidates are business consultant and federal financial analyst Shelley Kais, retired Air Force Colonel Martha McSally, who narrowly lost to Barber in 2012, and retired Air Force Chief Master Sgt. Chuck Wooten.
Below is a sampling of their answers during the July 26 primary election debate in Green Valley, in the order which they answered the questions.
What are the top three issues in CD2?
Wooten:
Border security: "This lends itself not just to what's going on here in CD2 and the miles of border that we have, but this is also a national sovereignty issue. No one else is paying attention to it in Washington."
Economy and jobs: "We have so many people that are not working that want to work. We have so many people that are trying to run businesses that are being crushed by the federal government. We have Obamacare looming on the horizon that threatens to crush us all."
Repeal Obamacare: "That is the major issue because it goes beyond economics. And so Obamacare must be repealed and it must be repealed in its entirety."
Kais:
Border security: "We are facing a crisis on our border and that crisis is turning into an economic crisis."
Jobs: "People need to work. We need to get high-paying jobs in Southern Arizona. We need to secure our military assets, we have the potential of losing thousands of jobs in Southern Arizona. We need to get on that right away."
The health industry: "Whether it's the scandal at the VA, whether it's Obamacare, whether it's just the rising prices. There are many of us in this room that do not still have a doctor because we couldn't keep the doctor we wanted and we're seeing more and more changes."
McSally:
The economy: "We can't do anything to secure our border or make sure we have a strong military unless we have the economic growth in order to do that. We have got to be able to support small businesses…I believe in getting the government out of the way and letting small businesses thrive."
Leadership: "We have a failure of leadership and Ron Barber is a bystander. We need someone who is not just going to introduce bills and have press releases but actually get things done."
Government overreach: "We don't have time to talk about the Affordable Care Act or lack thereof in one question…There's a big contrast between us on that. Barber believes in Obamacare, he's doubled-down on it many times, and I believe in thoughtful solutions that are patient-centered with choice."
How would you have voted on the immigration reform bill the Senate approved in 2013?

Kais would have voted no: "If you look inside that bill there's a lot more in it and one of the things that is in that bill is a new visa. A visa for home health care workers. There were lots of things in that 800-page bill that needed to be investigated before we just pass comprehensive immigration."
On border security: "I support closing the border now. We would not be where we are today if we had closed that border instead of passing that, trying to pass that bill. What we do need to do is we need to stand on the shoulders of giants and do what we've done in business for years, and that's benchmark. We need to go to Yuma and we need to look at how they secured the border in Yuma and we need to do that here."
On immigration reform: "Now is not the time for immigration. Now is the time for us to back up and set our compass in the direction of a future for America."
McSally would have voted no: "I do not support that bill because it's like the Obamacare of immigration reform."
On border security: "We all know in Southern Arizona that our border is not secure. My most recent trip down there, I could have gone in and out of Mexico several times. I chose not to, but our border is not secure. We need barriers and fencing, we need manpower at the border, we need intelligence-driven operations in order to detect monitor and intercept illegal activity…We don't know if we need more resources until we actually get the men and women who are doing the best they can, but they have a failed strategy, at the border doing intelligence -driven operations, so we don't want to just throw money at a bad strategy, we've got to fix the strategy."
On immigration reform: "We need to reform our legal immigration system so it is responsive to our economic needs, and that needs to be our focus as we move forward."
Wooten would have voted no: "I don't believe, and I don't stand for, anybody getting automatic citizenship in our country."
On border security: "We need to secure the border, period. There's no 'and then' at the end of that sentence, there's a period. Because without a secured border we've lost our national sovereignty. We have the greatest country on the planet and the greatest country on the planet has the resources that it needs to secure that border and seal it off immediately. We have engineering and technology, we have construction, we have a ton of unemployed people in this country who would love to come down and build our fence while we're augmenting the border patrol with military augmentation."
On immigration reform: "You can call it immigration reform, You can call it amnesty You can call it what it is but I call it wrong, and I stand firmly against it in every regard."
How can a freshman help create a balanced budget, and what would you cut first?
Kais:
Creating a balanced budget: "I may show up as a freshman, but I will show up as a seasoned federal financial analyst with a solid working knowledge of appropriations law. So as I begin, I believe I will be able to start working with folks with a credible presence in my first committee meeting. As we look at the issues, I'm just going to give you some numbers: the VA wants $17.6 billion, President Obama wants $3.7 billion. Folks, we can't sustain this and we need somebody who understands what's happened in the past that got us to this point, and be able to see strategically and decide where we're going in the future."
First federal cut: "It is time to cut back and I would begin by cutting many of the programs that deal with immigration…One of the programs where I think we ought to look at right away is the Office of Refugee Resettlement, that is the program that's responsible for what's going on for where we are right now with our Central American folks coming across the border. That was budgeted for $168 million two years ago and it popped up and went to $368 million the next year and then $868 million and what we've already promised, the Senate has already promised $1.94 billion for next year. That number is just popping up, we could also go into education and many other places. We need to cut back."
McSally:
Creating a balanced budget: "Look at the waste and abuse that we see, waste, fraud and abuse in the federal government. It was just released last year that there were $36 billion in improper payments in Medicare alone. That kind of stuff is just unattainable. We've got more than 47 different job training programs. None of them have really any accountability as to whether they're working. This is not a government that is working for you. And honestly, even having been in the military, the way we do business, where we have redundancies and inefficiencies between the services, and if you don't spend your budget by the end of September you're not going to get it in October, so there's often spending sprees at the end of the fiscal year. That's not how we should be spending hard earned taxpayers monies. So we need to address those spending issues by going line by line through the budget, figure out what's not working cutting programs that don't belong in the federal government while we're also growing the economy so that we can actually pay our bills."
First federal cut: "The 47 job training programs is a good place to start. Job training programs are best when they're locally based, right? And if there's going to be any federal dollars, it should be granted to the local communities so they can actually go to those who need the retraining so they can get back to work."
Wooten:
Creating a balanced budget: "First and foremost we have to repeal Obamacare because we know what that's about to do to our economy, and we can't afford it. Second, we need to remove the boot of the (Environmental Protection Agency) off of the neck of this country. Third, we need to return property rights to the states. Right now we're sitting, literally sitting, on $150 trillion over the next 10 years in natural resources that we can't have because the federal government has a lock on that property. It doesn't belong there, it belongs with the states. And here in our immediate area, we can do things like expand energy, mining, timber, ranching, farming and all these things. One more thing, we can cut the payroll tax, and when you cut the payroll tax it puts more money in peoples paychecks, it encourages people to work and it reduces unemployment."
First federal cut: "I would severely defund the EPA by at least 80 percent. And this is completely doable, and it's not reckless, it's absolute common sense because the EPA is mostly duplicative of every state's environmental agency. We don't need it."
How would you have voted on the bill that would have raised the debt ceiling in order to avoid a government shut down?

McSally: "We are not a deadbeat nation, and we need to pay our bills and I would not have supported shutting down the government. That hurt people here in our community and Congress should have seen that coming. That is another failure of leadership that they wait until these things hit brinksmanship and then they make people back on main street actually suffer for that…I would not have voted to shut down the government but we need to pay our bills those were two separate votes… and I wasn't there. Do we want to lose full faith and credit in the United States, I don't think so. So we've got to be able to pay our bills, but moving forward we've got to get our spending under control. So I would not have supported us losing full faith and credit."
Wooten: "The federal government is still, even today, completely out of control with its spending habits. Think of the most addicted person to drugs or alcohol that you can think of and you take that and multiply it by a million and that's our federal government when it comes to spending. It has to stop. And having said that, I will be the guy who stands up here and says I would not have voted for the debt ceiling to be raised and you send me to congress and I will never vote for the debt ceiling to be raised."
Kais: "The good news is the government is not going to get shut down this October because the Republicans have already put together a plan to kick the can down the road, surprisingly past the election. So would I have voted to raise the debt ceiling? No. We cannot sustain the debt that we have."
Medicare, Medicaid and Social Security are not sustainable. There will have to be cuts, Is that the only way out? How would you keep funding these without more debt?

Kais: "No it's not the only way out. If this was a Democratic audience they'd talk about raising taxes. that's not something we're looking at…You want the solution to Social Security and Medicare? Get people working. When we get people back to work, we have the money coming in to support this. We used to have seven employees for every retired, now we have 1.75. That's where the problem's coming from. Get people back to work, get the economy moving again and get the regulations off the small backs of businesses, so that they can hire and bring people into business."
McSally: "I promise you I will protect Social Security and Medicare for folks who are at or near retirement. My mom, who is a widow, is depending on both of those for herself like so many of you are in your retirement years. We have got to figure out how to sit down and make these programs sustainable and strengthen them for my generation and the next generation, while we keep our promises to those that are at or near retirement. How do we do that? Look, it's math, let's sit down and figure it out…It's affordable and available and I'm willing to sit down and come up with those solutions to strengthen them for the younger generations."
Wooten: "On the Medicare side, we've got a 75-year unfunded liability of $30 trillion coming up for that over the next several years. Obamacare is only going to make it worse. There is a way to do a reform for Medicare that it has a common sense approach and it doesn't involve changing the benefits for anybody receiving it. No impact for current recipients. Contribution should be defined by your income. The less you make the less you pay. That's a specific to how we can improve this and make sure it lasts for the duration, and it also needs to provide bankruptcy protection for those that is due to medical bills. On the Social Security side, reform is needed now, it's obviously unsustainable. it's been running a deficit since 2010. We need to have a gradual increase on the retirement age to 68. Again this doesn't affect anyone currently receiving or about to receive Social Security. There's a flat benefit with a guarantee against poverty, which is very important and it's based on fairness and stability for everybody. And included is a new retirement savings plan that would supplement social security that would be available to workers to participate, and this is the kicker, and an annual tax deduction it provides incentive for people to work longer."