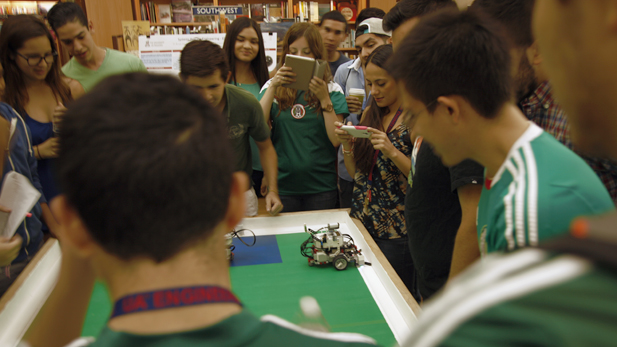 Students from the Insituto Tecnológico de Monterrey Hermosillo campus at the UA bookstore. (PHOTO: Zac Ziegler, AZPM)
This class of young college students from Mexico have applied their science, technology, engineering and math knowledge to building soccer-playing robots.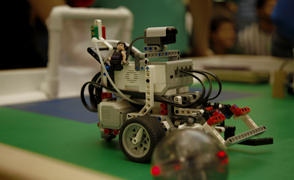 One of the robots built by students from Hermosillo's Tecnológico de Monterrey (PHOTO: Zac Ziegler, AZPM)
Soccer is often referred to as the world's game, and it's never easier to tell that then during a World Cup year.
That evidence manifested itself in an unusual way this summer at the University of Arizona. UA College of Engineering professor, Ricardo Valerdi, taught students from Mexico's Tecnológico de Monterrey in Hermosillo, Sonora how to build the robots.
"The main educational goal is to learn how to take a system all the way from a concept, all the way to implementation and test," Valerdi explained.
The students came to Tucson for a three-week intensive course that culminated in a tournament pitting their robots against each other.
The robots look nothing like their human counterparts on the field. They sit on four wheels with a student-designed attachment on the front end. That attachment must be able to control and kick the ball.
A robot cannot hold the ball for more than ten seconds, and contact is to be kept to a minimum.
Something that didn't always hold true during the World Cup...
Listen: