(VIDEO: azpm)
Arizona Daily Star reporter Perla Trevizo and photojournalist Mike Christy were packed to travel on short notice with one of the migrant women leaving Tucson to reunite with family members in the U.S.
If one day didn't work, they'd keep trying, Trevizo said on Friday's broadcast of Arizona Week.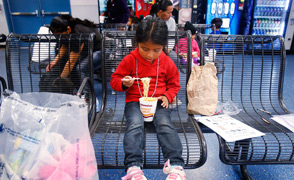 Lizeth eating while waiting for the bus at the Greyhound station in Tucson.

Mike Christy, Arizona Daily Star
Then, she met Karen Soto, a 22-year-old Guatemala native, and her daughter, Lizeth, 6. They were among a group of Central American immigrants apprehended at the border, and then dropped off at the Tucson Greyhound bus station by Border Patrol agents.
What happened after is depicted in Trevizo's article, Leaving Was Not Their First Choice; It Was Their Last, published July 20.
As Trevizo put it, she and Soto "just clicked." After a conversation sitting on one of the station's gray benches, Soto allowed Trevizo and Christy to go along on the ride to Delaware, where Soto and Lizeth would meet Soto's brother, Marcony, who came to the U.S. last year, at age 17.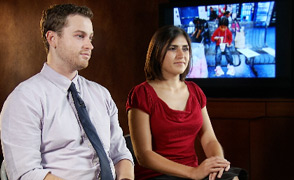 Arizona Daily Star's Mike Christy and Perla Trevizo.

AZPM Staff
The journalists bought bus tickets, grabbed their luggage and boarded the bus. It took nearly four days to get to Delaware, with Trevizo and Christy documenting and photographing every stage.
"When it was time to go, volunteers helped Karen and Lizeth find seats on the blue and gray bus, then handed Karen a zip-close bag full of cooked beans and rice. They hugged the mother and daughter good-bye and offered them a blessing," Trevizo wrote in the article.
"In her hand was a piece of paper with their date to report to an immigration officer and a yellow sticky note with the confirmation number of their bus tickets her brother had bought for them. Karen hoped she'd be able to figure out what do do," she continued.
Karen and Lizeth are among the hundreds of Central American migrants ending up at the Greyhound station after a long trek from their native country and through Mexico to reach the border.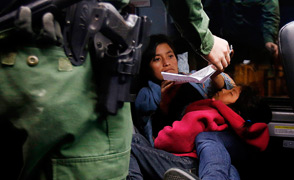 Border Patrol agent asks Karen for documentation.

Mike Christy, Arizona Daily Star
[Volunteers staff a receiving area at the bus station, filled with donations that have poured in. The volunteers explain bus routes, translate and prepare food for the families. If a bus is not arriving until the next day, some people have taken migrants home for the night.
"Having the volunteers ... made a huge difference because they (Karen and Lizeth) thought they were going to have to navigate on their own, and there were people there with a smile and giving them hugs, walking them through the process," Trevizo said.
After three days on one bus or another, Trevizo said, she felt anxious. She had barely spoken to Karen about her experience leaving Guatemala and going to the Mexico-U.S. border, partly because she didn't want many people around when they spoke.
At every stop, she would get off to chat with Karen for a few minutes, Christy took photos. Pretty quickly, Karen and Lizeth became accustomed to it, the journalists said.
"The morning before we got to Delaware, (Lizeth) was done, she was exhausted and she just wanted to be over with it, and I think Karen a little bit of the same thing," Trevizo said. "I think it was more exhaustion than excitement, until we got to the bus station and she saw her brother get out of the mini van. Then you really saw the emotion."
They had not seen each other in a year and a half, and in their initial embrace, Karen felt the time apart was a lot longer, Trevizo said.
"As soon as we got there, they're having dinner together, they wanted time for themselves. It's not the same thing to have a reunion with two journalists in your face, and so we kind of got that feeling that they wanted that downtime to talk about their family back in Guatemala, feelings about their future ... we left them that Thursday evening," she said.
Karen's and Lizeth's experiences led Trevizo to reflect on the ongoing immigration debate in the U.S., especially in recent weeks since the influx of mostly children from Guatemala, El Salvador and Honduras has overwhelmed the country's political conversation.
"The main objective with this story was to show the complexities of immigration," she said. "There is not one single reason why people are coming, and in order to solve this issue, it has to be approached in different ways. Doing things (only) in the U.S. is not going to solve the problem on its own."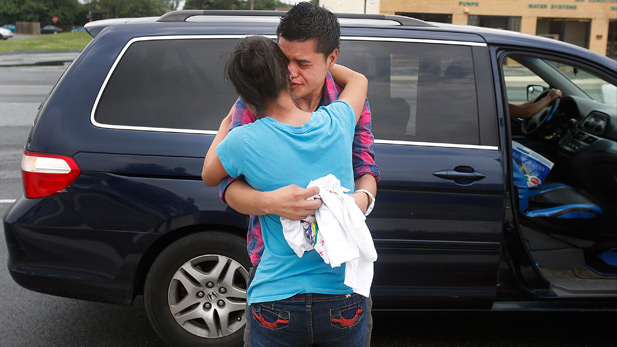 Karen hadn't seen her brother, Marcony, in more than a year. He embarked to U.S. last year at age 17.

Mike Christy, Arizona Daily Star