(VIDEO: AZPM)
A political refugee from Guatemala says the dangers migrants face nowadays while trying to cross into the United States were not around when he embarked north.
Sebastian Quinac, now a refugees and immigrants advocate, left Guatemala in the early 1980s. He fled the violence fueled by the Central American country's devastating civil war. By 1983, he had received three death threats. They were the last drop.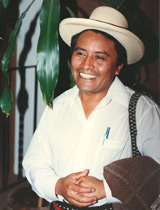 Sebastian Quinac fled Guatemala in the early 1980s. (PHOTO: Courtesy of Sebastian Quinac)
Quinac's family photographed in Guatemala. (PHOTO: Courtesy of Sebastian Quinac)
"The situation now is a little bit different than when I left Guatemala in the '80s," Quinac said during Friday's broadcast of Arizona Week. "(Back) then, you could see the fight between two groups (guerrilla and military). But now, it is everywhere, you never know who wants to get you, threaten you. The maras, gangs, or narcos (drug smugglers) and all other people that are lost in how to deal with economic problems, social problems in their villages."
Quinac headed to Mexico, and from there crossed into the U.S. from the border with Tijuana, Mexico.
In recent weeks, tens of thousands of children from Guatemala, El Salvador and Honduras have been apprehended trying to cross into the U.S. It's been reported that many are fleeing gang and drug violence, as well as extreme poverty. For others, it's about reuniting with parents or family members already living in the U.S.
Quinac said these children and all others emigrating from their native country because of violence should be granted a refugee status, just like he did. He argued politicians and others should not look at them as just "another group of migrants."
"People are refugees because they want to save their lives, the same thing that happened with me," he said. "After three death threats...'What should I do? Stay here and be killed or go and save my life?' If they go back, then they face dangers again, with political asylum, they can stay here...to live as human beings..."
He was recently in Guatemala, and said coyotes - human smugglers - have taken advantage of false rumors that this is the right time to come to the U.S. because undocumented migrants will be legalized.
"It is not everyone saying that, but key people are saying that," he added.
Quinac has been volunteering at the Greyhound Bus Station in downtown Tucson, where many migrant children and families are being transported, mostly after being apprehended in Texas. He said it is sad for him to think about what their future will be, whether on U.S. soil or back in their home countries.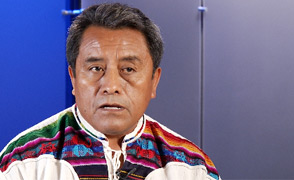 Quinac was able to obtain political refuge, and became a U.S. citizen more than 10 years ago.

AZPM Staff
"I met a young woman from San Marcos, (Guatemala), she speaks Mam, an indigenous language, she was nine months pregnant and (recently) she went into labor, and thinking about the baby born here and what will be his or her future and also the mom, that is one thing," he said. "The other thing is when you see babies with bad infections, their eyes, their bodies, stomach aches, vomiting, diarrhea and moms almost dead because they don't eat for days, and that makes me think what will happen with them and the family they left behind…this is a very difficult and I don't know how to call this..."
Quinac criticized people who argue migrants come here to take advantage of government benefits, and used his experience as an example of someone who took advantage of the opportunity for a new life.
"I didn't go to school in Guatemala when I was a kid...I went to a literacy program when I was a teenager, and then I came here and I started to go to ESL (English as second language) class," he said. "If they have the opportunity to be legalized, they will support this country."