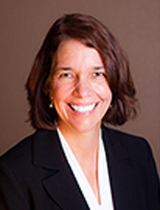 Interim Tucson City Manager Martha Durkin
The Tucson City Council has selected Assistant City Manager Martha Durkin to serve as interim city manager.
Richard Miranda is retiring from the manager position at the end of July, and Durkin will take over Aug. 1.
She will not be eligible to apply for the permanent Tucson city manager position. The city council made that stipulation a few weeks ago, saying it would make the search for a new city manager more competitive.
Durkin is a lawyer and has worked for the local government agencies since 1984.
The Tucson City Council has said it wants to conduct a national search for the next manager, but has not yet determined how much to spend or dictated the specifics of the search process.