Listen:
Tucson City Manager Richard Miranda said he was brought in at a time when the city needed stability in leadership, and he accomplished that.
He is retiring July 31, after a 39-year career with the city. He began as a police officer in 1975, and worked his way up through the ranks, eventually becoming police chief for a decade. He retired from that position in 2008 and took an assistant city manager position under then-manager Mike Letcher.
When Letcher was fired in 2011, Miranda was promoted to interim city manager, and then was hired for the permanent position later that year.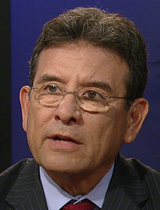 Tucson City Manager Richard Miranda (PHOTO: azpm)
Miranda's successor will be the 10th city manager of Tucson in the last decade, but he said that does not indicate instability in city leadership.
The realities of the job are different than they were for managers who had longer tenures in the past, Miranda said, comparing himself to Joel Valdez. Long-hailed as a good city manager, Valdez ran the city for 14 years in the 1970s and '80s.
That's not realistic anymore because of the constant pressure on managers now, Miranda said.
"When Joel was manager there weren't cell phones. There weren't emails. There weren't text messages. There weren't social media, and that kind of pressure wasn't there. The pressure on us as city managers, the pressure on my staff is really 24/7 so to get three to five years out of a manager, I think you have stability," Miranda said.
Miranda said he took the top Tucson job at a time when he needed to build trust and confidence between the public and the city.
"I think that if you look around to good city managers, they know what their goals are, they know what their objectives are and they go out and achieve them through their people. I think we've done that here," he said.
In his resignation letter, Miranda said he intends to spend more time with his family. In an interview, he said the time is right for him to leave, but left the door open to pursue other work.
"I've been here for about 40 years and I think it's time to see what's outside the city of Tucson," he said.
Any of Miranda's three assistant city managers would make a good interim manager to guide the transition, he said.
They are: Kelly Gottschalk, who oversees the city budget and is its chief financial officer; Albert Elias, former city department head; Martha Durkin, former Tucson Unified School District attorney.
"I have three really solid assistant city majors who understand what the mission is of our organization and I see their commitment to our community on a daily basis and I think that they have a great foundation to run the city," he said, calling them "perfect people for the job."