(VIDEO: AZPM)
Daniela Preciado grew up in the foster care system. Now an adult, mother and wife, Preciado's been giving back as a foster parent for about six years.
She is at the ground level of a broken child welfare system, and one of the people who has felt the consequences of budget cuts and reported poor management.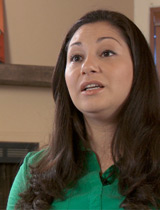 Daniela Preciado grew up in the foster care system. She now gives back as a foster parent, and has taken care of 15 kids in about six years. (PHOTO: AZPM Staff)
During Friday's broadcast of Arizona Week, she said she's keeping foster children for too long, and is sometimes ignored by caseworkers, mostly due to an overload of children assigned to employees.
"I feel like the state just gives up to the point where ... I get case managers telling me, 'Well, I'm not so worried about coming this month because you're a good home...you guys are a good home, I know the kids are being taken care of," Preciado said. "...that makes me feel good, but at the same time, that is (their) job. How much attention can they give to these kids, when they have 30 to 40 kids on a caseload?"
Light was shed on what already was a system in crisis last November on news that more than 6,500 abuse and neglect cases had been closed without investigation.
On Thursday, after months of work, Gov. Jan Brewer signed two child welfare overhaul bills: one to create the Department of Child Safety, a cabinet-level agency replacing what was formerly known as Child Protective Service, and the other to establish a more than $800 million budget for it.
A big chunk of that money will go toward hiring about 240 caseworkers, 30 criminal investigators and some associated lawyers, said state Rep. John Kavanagh, with the hope to tackle thousands of backlog cases, and establish a more realistic number of cases per employee.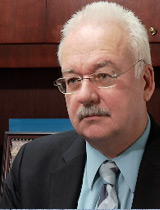 State Rep. John Kavanagh. (PHOTO: AZPM Staff)
"It is money that is needed, it has been needed for a long time, the agency has a very large caseload that has been growing over the years...people burn out quickly," Kavanagh said. "A lot of this budget is personnel."
Preventative programs will also economically benefit. These had suffered, especially during the recession, said state Rep. Eric Meyer.
He said the state has seen an increase in number of children referred to CPS, as well as a spike in kids in the foster care system - statistics show that about 16,000 Arizona children live in foster homes.
"We have not kept up with the funding," he said. "When we went into the recession, we cut deeply into all of these services that are preventative...that keep kids from coming into the system."
Which is why he said he thinks the state should spend upfront to invest in preventative services in order for the new agency to be successful.
Preciado argued she wouldn't be keeping children as long as she does if these types of programs were in place. She said sometimes parents become too comfortable being away from their children.
"...we need to do hands-on with parents, not take them away from (being) parents, put them in an environment where mom and child can be monitored and be together, and mom can be a mom or dad can be a dad….not completely rip their structure…because it's like a vacation," she said.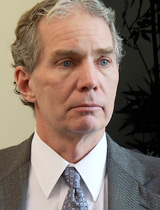 State Rep. Eric Meyer, D-Paradise Valley. (PHOTO: AZPM Staff)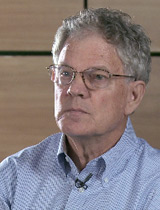 Peter Hershberger, former state legislator and director of FosterEd. (PHOTO: AZPM Staff)
Locally, while effects of the child care revamp gain momentum, a pilot program called FosterEd - an initiative of the National Center for Youth Law - is working in Pima County to improve the educational outcomes of foster children, said Pete Hershberger, a former state legislator and director of FosterEd.
One of the program's goals is to improve communication between foster parents, caseworkers and all other agencies involved with the child's care, he explained.
"When children come into the system, we establish a team that is led by an engaged adult we call 'an educational champion,' that team then supports that child. Right now, we have foster children falling through the cracks...forgotten children, and this team is going to support and advocate for (these children)," Hershberger said.
He argued the un-investigated cases scandal is partly a consequence of the budget cuts. Back in 2003, Hershberger participated in a special legislative session to address CPS issues. Then, they also tried to reform the agency.
"Since that time, we have been saying there are consequences to the cuts...there are consequences to having caseloads that are far too high...more work than they (caseworkers) can rationally accomplish...we are seeing the results...now," he said. "We need to provide the resources for this agency to comprehensively do their job."
The new law was collaboratively drafted by a bipartisan group of state legislators, community child advocates, members of Brewer's office, among others. Meyer said next year, the Legislature plans to continue working with the new agency to ensure improvements.