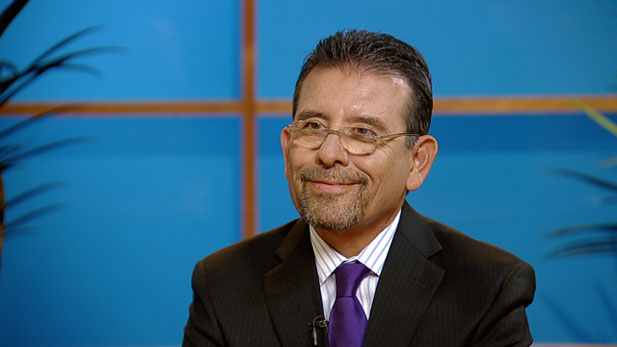 Tucson City Manager Richard Miranda, who announced his retirement, effective July 31.

azpm
Richard Miranda announced his retirement Friday as Tucson city manager, ending a three-year tenure in the job and a 39-year career as a city employee.
"After nearly 40 years of service with the city of Tucson, I feel that it is time to make this move for my family and me," Miranda said in a letter to the City Council. "I want to thank the mayor and council and the citizens of this community for allowing me to serve our great city."
Miranda was out of town Friday and unavailable for comment, a city spokeswoman said.
Miranda, 61, a native of Tucson, will leave office July 31. He has run the city through difficult financial times, facing budget deficits every year he has been in charge. For the coming fiscal year, starting July 1, Miranda is managing a deficit exceeding $20 million.
Mayor Jonathan Rothschild, who voted with the rest of the council to elevate Miranda from interim manager to permanent in 2012, issued a statement praising Miranda.
"He has been a steady, stabilizing presence, well-respected by city staff and the community, whose integrity and devotion to Tucson both are exceptional," Rothschild's statement said. "I have benefited from his counsel on many occasions."
The mayor said the timing of Miranda's retirement was designed to allow the city to produce a balanced budget and to get the streetcar running. The budget will be adopted in June, and the streetcar is scheduled to start July 25.
Miranda began working as an assistant city manager in 2008, after retiring as Tucson police chief. He became interim manager in September 2011 when Mike Letcher was fired as city manager.
Miranda became a police officer in 1975 after graduating from the University of Arizona and earning a master's degree from Northern Arizona University. He worked his way up through the ranks and was named chief in 1998.
During his tenure as chief, the Police Department grew from 960 officers to more than 1,500, according to the city's website.
Rothschild said Friday the city would conduct a national search for a replacement.
Read Miranda's retirement letter to the Tucson City Council

View at Google Docs
|

Download File