(VIDEO: azpm)
The state's reformed child welfare agency has taken care of thousands of un-investigated abuse and neglect cases, planned for a new training program for employees, and seen significant improvements in its call response technology, according to the agency's director.
"There is a great opportunity here to fix a problem that has been present in our state for decades," said Charles Flanagan, director of the Division of Child Safety and Family Services, during Friday's broadcast of Arizona Week. "I believe the moral of the agency is changing already. I have gotten a flood of emails from staff thanking me for what we have been doing, and the change they have seen with my accessibility and communication with them."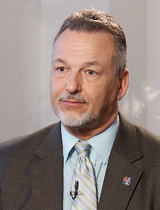 Charles Flanagan. (PHOTO: AZPM Staff)
Earlier this year, Gov. Jan Brewer abolished Arizona's Child Protective Services, replacing it with a cabinet-level position reporting directly to her. The governor turned to Flanagan, former director of the Arizona Department of Juvenile Corrections, to head such agency.
In late 2013, it was reported that CPS had ignored more than 6,500 abuse and neglect cases. The governor created the Child Advocate Response Examination, also known as CARE team, to oversee CPS as they took on those cases, and to review the glitches in the system.
A report by the CARE team argued CPS lacked standards, had inexperienced staff, and that a new division - independent from the state's Department of Economic Security - was crucial.
Merely a few months have gone by since a new agency arose, but progress has been made, Flanagan argued.
"For the first time in the history of the call center," the division's telephone system was upgraded in April, he said. They've also added caller IDs, which means if a call is lost, the representative can now contact a person back, he added.
He pointed out there soon will be an option to send low priority calls via email, so that the staff in the call center can enter the information directly into a computer program, making the information more organized for the case investigators.
"Additionally, we have a terrible system...this child data base, which is outmoded, doesn't work effectively and it is very difficult for staff to use...was badly constructed, and it is going to cost a lot of money to replace, but the governor showed commitment for us to do something to fix that problem," Flanagan said.
Arizona State University recently reviewed the agency's training program, which takes about 22 weeks to prepare new hires to get out in the field. "And these are people who just got out from a degree program, that are now going back to a classroom for pre-service," he said.
ASU and the agency are collaborating to develop a new training program - at no cost to the agency - that would be competency-based, meaning if a person demonstrates "competency, then you don't have to sit through the classroom...if you have experience, you don't have to sit through certain things, and that will speedy the program," Flanagan explained.
The goal, he said, is to hire various positions by October to take on about 14,777 backlog cases. Faster training will facilitate looking into those cases, he said.
Transparency and accessibility to the public are also priorities, he added.
In the past, "Leadership was a huge problem, but also the fact that there is so much secrecy in this agency, and the governor made it clear that we will be open," while also protecting identities of children and families, Flanagan said.
Legislation has been drafted to officially establish the new agency and lay out its funding. Flanagan said the bill's planning process was inclusive of all positions in the issue, which he said he anticipates will help it succeed in the state Legislature.
Brewer has planned for a special legislative session to begin debate on the bill.