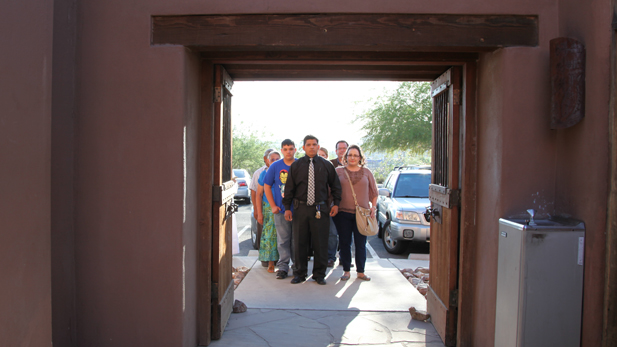 Daniel Neyoy Ruiz with his family about to enter Southside Presbyterian to seek sanctuary.

Fernanda Echavarri, AZPM
Two days after a Mexican immigrant was given sanctuary at a South Side Tucson church, immigration officials say they will not take immediate action on his deportation case.
Daniel Neyoy Ruiz, 36, was given until May 13 to turn himself in for voluntary deportation after a routine traffic stop three years ago revealed he was in the country illegally.
A spokeswoman with Immigration and Customs Enforcement said via email Thursday afternoon that after conducting a thorough review of the case, the agency has decided to exercise prosecutorial discretion by not taking immediate action on Neyoy Ruiz's deportation order.
This does not mean the deportation order has been removed or the case has been closed, according to ICE.
About a month ago, Neyoy Ruiz said he received a letter from the immigration agency giving him 30 days to appear at the Tucson immigration office.
He said he has no criminal background, and has kept steady employment in Tucson since he came to the United States more than 14 years ago.
Neyoy Ruiz, a maintenance supervisor at a local townhouse complex, was given sanctuary at the Southside Presbyterian Church Tuesday, where he moved in with his wife and son, who is a U.S. citizen.
"The information released by ICE does very little to permanently protect Daniel of his family so he will remain in sanctuary, until the Obama administration and the department of homeland security see fit to formally close his deportation," said Sarah Lanius, a volunteer with Keep Tucson Together, a free immigration legal clinic working with Neyoy Ruiz.
This was the first time in more than 30 years that Southside Presbyterian allowed a family to stay for sanctuary, church officials said. The church was part of the sanctuary movement in the 1980s, when they gave refuge to several Central American immigrants fleeing civil wars in their native countries.