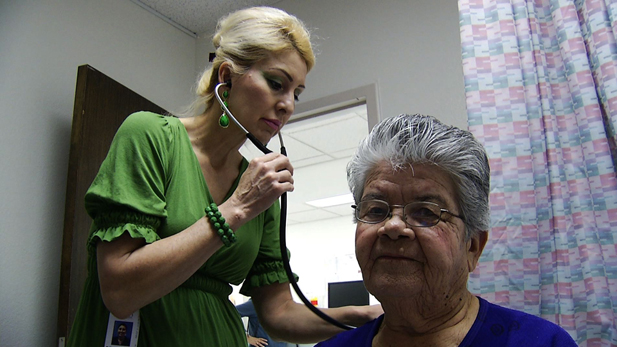 Linda Williams, a physician at El Rio Community Health Clinic, performs a routine checkup on her patient.

AZPM
Gov. Jan Brewer and AHCCCS Director Tom Betlach Wednesday petitioned the Arizona Supreme Court to review the recent appellate court decision allowing Medicaid expansion lawsuit to proceed, a press release from the governor's office said.
"I am hopeful that the Arizona Supreme Court will agree to review the Court of Appeal's decision," Brewer said in the press release "Permitting the appellate decision to stand confuses and misapplies existing Arizona Supreme Court case law, and would set a disturbing precedent in Arizona – one that would result in our courts acting as referees in the legislative process, and also opening a Pandora's box for future baseless, politically-charged lawsuits."
In February, the Arizona Supreme Court ruled lawmakers couldn't sue the state on these grounds. An appeals court overturned that ruling in April.
Republicans in the state House and Senate sued last year over a hospital assessment that funds the expansion. The first year would be covered under the Affordable Care Act, but then that funding becomes responsibility of the state. The group of 36 GOP lawmakers argued this violates the state Constitution because it would raise taxes without a required two-third vote.
"More importantly, should the implementation of the Medicaid Restoration Plan be prevented, it would throw approximately 150,000 Arizonans (and climbing) off of health insurance,thereby preventing them from receiving critical, cost-effective healthcare through our model AHCCCS program," the governor said in a statement.
"...defy the will of the Arizona voters, who have twice voted to require Medicaid eligibility for all Arizonans at or below one hundred percent of the federal poverty level; threaten the viability of our state's rural and safety net hospitals; and decimate our state budget, undermining our ability to fund critical areas including child safety, education, public safety and services to Arizona's most vulnerable populations," she added.