(VIDEO: azpm)
Last year's fire season was tragically marked by the Yarnell Hill Fire near Prescott, which took the lives of 19 Granite Mountain Hotshots, who died attempting to combat the devastating wildfire.
This year, as Arizona's drought remains, wildfire threats have worsened. And, as part of Arizona Wildfire Prevention Week, even Gov. Jan Brewer communicated concerns, urging the public to keep an eye out and also participate in fire prevention efforts.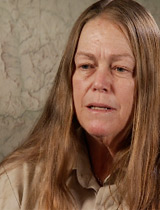 Heidi Schewel with the Coronado National Forest Service. (PHOTO: AZPM Staff)
Regional officials with the U.S. National Park Service and the Coronado National Forest Service are also highlighting community awareness and involvement in helping prevent deadly wildfires this year. And during Friday's broadcast of Arizona Week, they discussed the steps being taken to better prepare for the hotter and drier months.
"We are always in fire season, 12 months out of the year...but what we are looking at the spring and summer is above normal potential for larger wildfires," said Heidi Schewel of the Coronado National Forest Service. "There are several factors that can work into this, one is we are in an ongoing drought that is not going to change any time soon...we had two dry winters back-to-back."
She said there is high potential for wildfires in the next few months.
"We have the fuels, we will have the weather conditions, and it will become progressively drier and hotter," Schewel said. But the agency is prepared to respond in case fires do arise, she added.
All seasonal and permanent firefighter positions are filled, there's a full engine staff, as well as three helicopters which should be here by April, she said. Initial attack plans are also in place, which include a crew of about 20 people that would immediately be deployed to suppress a fire before it gets too grave, she explained. "We (Coronado National Forest) are pretty much where we need to be," Schewel said. "We have different resources available to us."
However, these are tools to combat the aftermaths of igniting a fire, so both Coronado and the National Park Service have launched campaigns to remind the public to be careful with what they do outdoors, as there are a lot of actions that could create a spark, and sparks in dry weather lead to fire.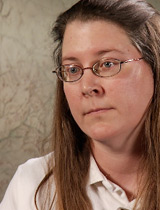 Michelle Fidler with the U.S. National Park Service. (PHOTO: AZPM Staff)
"What we are trying to let people know is one less spark means one less wildfire, and what that is really about is emphasizing that wildfire prevention is everyone's responsibility," said Michelle Fidler from the National Park Service. "There are a lot of things that can cause a fire that (people) may not automatically think of."
Those include dragging tire chains on the highway, and even common road trip traditions, such as pulling over and parking on the side of the road. "If you pull into the tall, dry grass...your hot converter can ignite a wildfire as well," Fidler added.
Schewel said she and Coronado National Forest would like to remind people to take personal responsibility.
"When a lightning fire starts, that is one thing, but most of our fires (in the Coronado) are human-caused...they need an ignition source, and I would hope that nobody would want to be that ignition source," she said. "We encourage people to think what they are doing, try to make sure you are not the one who starts that fire."
Fidler said that for those who ignore the precautions, and a fire is traced back to them, there are consequences, such as monetary fines.
"Nobody wants to have that responsibility, the best thing you can do is be cautions in the outdoors...think ahead," she said.