Listen:
Tucson resident Anita "Sarge" Kellman has been working in the medical field for more than 25 years.
She's a clinical liaison for patients who are undergoing biopsies and other procedures, and she's been meeting cancer survivors all along.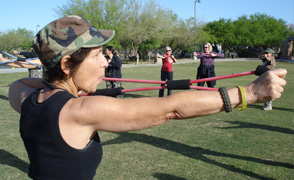 Anita "Sarge" Kellman and some of the troop members during their Saturday morning workout routine.

Tony Paniagua
Kellman is also a big fan of exercising, and after learning navy seal techniques more than ten years ago, she decided to combine her passion for helping patients with working out.
In 2004, the Beat Cancer Boot Camp emerged from this passion.
Since then, thousands of cancer survivors, their friends and family have participated in multiple events.
They include educational classes, lunches, dinners and exercise sessions where Kellman leads the "troop members" during one-hour physical routines at Brandi Fenton Memorial Park and other locations.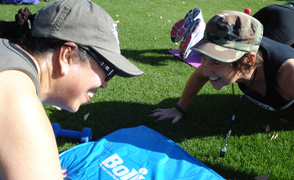 Smiles are common during the exercise gathering and other events.

Tony Paniagua
"The format is to make a total body work out," Kellman said. "I want to make sure that when the women walk away that they feel that they're stronger and healthier just by showing up."
Word has been spreading about the program, and it's now in seven states but it seems to be poised for even more growth.
Since appearing as a guest trainer on NBC's "The Biggest Loser," Kellman has been getting even more calls to take the program to other communities.
She has decided to relinquish responsibilities locally to focus on its national growth.
"It's going to be an adjustment for me also because this has been my life for ten years day in day out," she said. "I spend many hours not only teaching the class but working on many projects and helping the community in various ways for boot camp."
The Tucson chapter will be run by a board, made up of several committees from its general membership. Participants will tend to an array of areas such as marketing and outreach.
Board president Mary Specio-Boyer said she's excited about the future and helping other women.
She was diagnosed with breast cancer in 2009 and has been active in the organization ever since.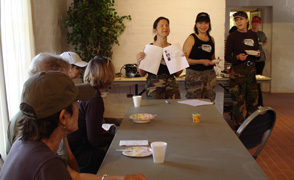 After exercising, the troop members gather for coffee and snacks and to discuss future projects.

Tony Paniagua
"I've been able to not only make new friends but to share my experiences and make them meaningful and that's so, so very important," she said. "The other thing I like about this group is that my friends and family are all involved."
Nancy Pearson is an archaeologist at the UA's Arizona State Museum.
She was diagnosed with breast cancer in 2002 and she's been attending boot camp since the beginning, when she happened to meet Kellman.
"Cancer boot camp discovered me," she said.
"The sergeant, Anita Kellman, was working when I went in for some cancer treatment and I remember, heard some of her coworkers say, 'hey, she does boot camp.' And I thought, huh, I wonder if I can do a boot camp?" Pearson said.
Pearson found she could do it and she continues to be involved.
She and the other women say it provides many benefits, including camaraderie with physical and emotional support when it is especially valuable in their lives.