(VIDEO: AZPM)
Arizona shares 370 miles of border with Mexico's states of Sonora and Baja California.
The area has been considered a Ground Zero for drug and human smuggling, with hundreds of thousands of undocumented immigrants apprehended and overloads of narcotics seized every year.
The issues are still there, but the number of Border Patrol agents has increased, and the quality of technology, border fences and other security tools used has improved, even leading to fewer apprehensions in some areas, representatives of the Border Patrol's Tucson and Yuma sectors said in interviews for Friday's broadcast of Arizona Week.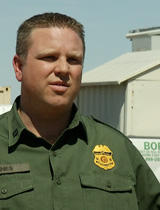 Supervisory Patrol Agent Thomas Lines works in the Border Patrol's Yuma Sector. (PHOTO: AZPM Staff)
Around the town of San Luis, southwest of Yuma, apprehensions in the last 10 years have decreased by nearly 95 percent, Border Patrol Yuma Sector's statistics showed.
Supervisory Patrol Agent Thomas Lines, who works in that sector, attributed the decline to the manpower, technology and infrastructure sent to the area.
"... In 2005, we had a record number of apprehensions ... it was 138,000 people, and in 2013, it was about 6,100 people," he said. "The apprehensions have gone down significantly, obviously with the technology...the manpower they have deployed, it has been able to combat the traffic coming through the area."
The Tucson Sector oversees about 262 miles of border with Mexico, according to the sector's estimations. During the area's worst times, there were approximately 616,000 apprehensions, said Border Patrol Agent Bryan Flowers. Those figures, too, have decreased today, he added.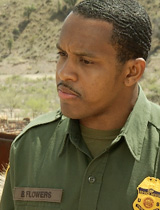 Border Patrol Agent Bryan Flowers work in the Tucson Sector. (PHOTO: AZPM Staff)
Since 2000, the sector went from having about 1,500 agents for all of its eight agencies to having close to 4,200, Flowers said. The sector's infrastructure has also gotten better, including building a tougher fence that now has cement between the metal shields, making it harder to breach.
On his January visit to the Arizona-Mexico border, Secretary of Homeland Security Jeh Johnson spent time in Douglas, and said he was impressed with the work of the Border Patrol in the Tucson Sector. He also said he planned making the Arizona-Mexico border a priority for initiatives to make it safer.
"We will continue to advance our mission by building and maintaining strong strategic partnerships with other law enforcement agencies and the community, in order to promote public safety along the border," Flowers said.
Back in the Yuma Sector, Lines said improved conditions have also helped save more lives in the desert.
He works at the Wellton Station, which is the most isolated agency in the area. He said, since his arrival in 2002, deaths of people attempting to cross the border have declined.
That station is closer to the remote places where undocumented migrants travel, so the agents are able to respond a lot faster if someone needs help, he said.
"In the summer time, it can get up to 120 degrees...people crossing this area are told that it is a short walk to the other side, and sometimes they are out here for four, five or six days depending on the route that they take," Lines said. "...a lot of elements that they have to battle, and the criminal organizations that are out here, too."
Wellton sees a lot of traffic, he said, but it is now equipped with search and rescue teams to aid with the load, he added.