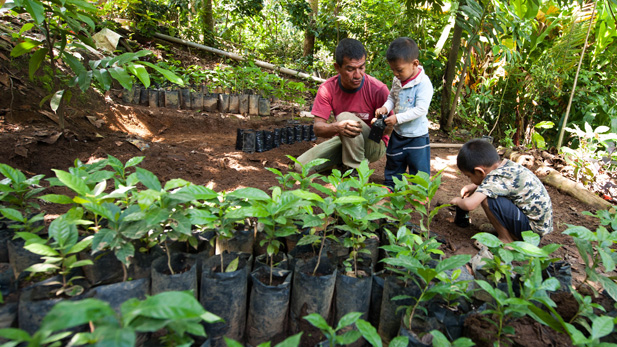 Genaro Mendez's sons help him plant coffee seedlings in Chiapas that could end up sold in Tucson

Will Seberger
Listen to the radio story here

Story by Fernanda Echavarri and Will Seberger
As immigration reform remains a battleground issue in Washington, D.C., a not-for-profit agricultural cooperative selling coffee in Southern Arizona is providing economic opportunity for people living on Mexico's southern border, giving farmers a reason not to make the deadly trek north.
Chiapas, Mexico's southernmost state on the border with Guatemala, is one of the country's poorest states, covered in dense jungle and volcanic mountain ranges. Its high altitude and warm, wet climate make it ideal for growing coffee.
While coffee is not an especially high-value cash crop in Mexico, it is a hot commodity in the U.S. and Europe. It is difficult, however, for individual farmers to grow enough to meet market needs and to cover the cost and logistics of international sales.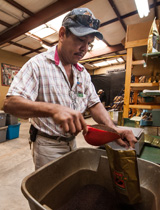 Coffee beans from Chiapas are shipped to Mexico's northern border where workers package and roast them. (PHOTO: Will Seberger)
About 10 years ago, Arthur "Tommy" Bassett III saw an opportunity to build a non-profit cooperative that would allow individual farmers to pool their coffee crops and share distribution costs.

Just Coffee or Café Justo operates in Douglas and across the border at Agua Prieta, Sonora. It began as a response to what Bassett called an immigration crisis.
"It became obvious to try to do something," said Bassett, who lives near one of the busiest migrant corridors in Arizona. "So at first you can put water out or give people sandwiches or translate or do whatever but it becomes apparent that's not enough."
From 2001 to 2013 almost 100 bodies found in the Arizona desert – that could be identified – were people from Chiapas, and dozens of Chiapanecos have been reported missing after attempting to cross into the U.S. through the desert, records showed.
"Economic development is the key to preventing dangerous and illegal immigration," Bassett said.
With a $20,000 church loan and the help of Adrián Gonzales and the Rev. Marcus Adams, Bassett set out to build Café Justo; including a commercial roaster and shipping facility in Sonora, a processing facility in Chiapas, and a sales network in Arizona and beyond.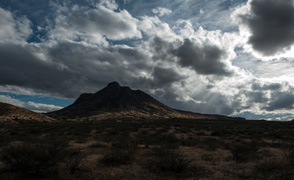 U.S. border with Mexico near Naco Arizona

Will Seberger
Approximately 30 farmers belong to the co-op in Salvador Urbina, including 51-year-old Genaro Meza Mendez.
He carries on the family tradition of growing coffee, teaching his boys, Jael and Miguel, how to care for the land and the crops.
Mendez is one of seven children, and the only of three brothers still living in Mexico - the others immigrated illegally to the U.S. in search of better opportunities.
His mother, Lucia Mendez Sicara, 73, knows first-hand how migration shatters families. Sitting in her kitchen, she recalled the day Mendez's brothers left for the U.S.
"It was a Tuesday when my sons were crossing and fighting in that place, they had no clue where to go they were just there, looking up and down and left and right and not knowing where to go," she said.
Her sons left after coffee prices dipped, and work was scarce in Salvador Urbina outside of the coffee industry.
Across the street from the Meza house, Café Justo's bright green packing facility sits on a hillside overlooking jungle below.

Felix Ventura Gomez, 28, cares for the machinery at the facility. For Gomez, Justo was the reason to avoid a perilous trek north.
"We don't make a lot but, enough for us to live. I thought about going up there, not so much to work but instead to feel what it's like to cross the desert, but thank god Cafe Justo came up," he said.
Gomez said he has a friend who crossed into the U.S., but only after getting lost in the desert, and running out of water after his smuggler abandoned the group.
Knowing a chance for success exists in Urbina is enough to keep him from risking his life crossing the Sonoran Desert into Arizona.
Coffee provides an opportunity even for people who left the U.S. voluntarily or by deportation, Gomez said.
Luis Alberto Vasquez lived in the U.S. without papers for four years. He worked in housekeeping, landscaping and meatpacking on the East Coast before being arrested and deported.
He is banned from entering the U.S. for 10 years, Vasquez said. His children are living in Chiapas but are U.S. citizens, he said so after the ban expires he may go back to the U.S.
While his long-term plans remain uncertain, Vasquez supports his family by carrying coffee beans down mountainsides on Mexico's southernmost border. Some of those beans may eventually end up for sale near the U.S. border and beyond.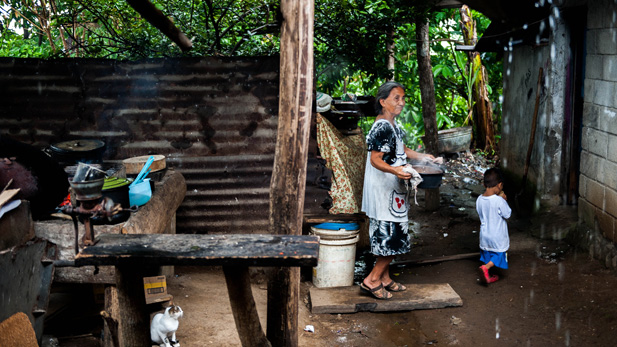 Lucia Mendez says it would be difficult to feed her family of eight without Just Coffee

Will Seberger