(VIDEO: AZPM)
As the 2014 legislative session rolled out in January, one of Gov. Jan Brewer's proposals was for the state to keep higher education affordable and tuitions stable.
In her State of the State address earlier this year, the governor called on the Arizona Board of Regents to develop a plan that would guarantee a steady in-state tuition for the four years it usually takes a student to graduate. And, while many state lawmakers, and public university and education leaders argue this would be ideal, such plan's success depends on how much money the state has for higher education.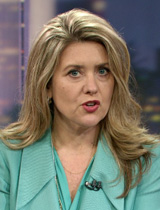 Eileen Klein, president of the Arizona Board of Regents. (PHOTO: AZPM Staff)
During Friday's broadcast of Arizona Week, ABOR President Eileen Klein discussed how likely it is for Arizona to freeze in-state tuitions in the three public universities, and shared upcoming proposals that could aid students complete an affordable higher education.
Klein said ABOR is eager to explore options to make Brewer's plan happen. However, "the ability to keep tuition stable is highly dependent on the state's ability to help fund higher education," she added.
When Arizona's economy found itself at the edge of a brink, budget cuts had to be made, and public universities were at the forefront of those with hundreds of millions of dollars being removed from their funding. The economic shortfall happened at the same time as more than 20,000 new students made their way to the state, so ABOR found a solution in raising tuition to take care of a growing population of public university students, Klein explained.
"(Now,) we are in recovery, we are able to see moderation in the tuition rates, but how can we make sure we have enough state funding?" she said. "Having additional state support is crucial (to have stable tuitions going forward)."
While the funding dilemma sorts itself out, starting with the next ABOR meeting in February, Klein said she will be presenting to the board, in behalf of university presidents, options to create a framework where each of the universities - University of Arizona, Arizona State University and Northern Arizona University - can set a long-term tuition plan so that students, their parents, university budgeters, and university presidents have a map of anticipated tuition over the next several years, as well as understand the reason for such figures.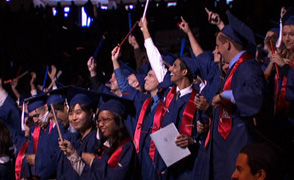 University of Arizona students at graduation.
Also, "In April, we will look at universities' tuition request," she said. "ASU has already predicted that they won't be seeking tuition increase for in-state students, but we will need to see what the ABOR is able to do...look at state funding. But building that plan is going to be a significant step in providing students and families with that predictability."
ABOR has also tried other pathways to give students options for affordable higher education, such as online degree opportunities, recommending community colleges for associate degrees, all of which would minimize their time in a more expensive university setting, according to Klein.
Next week, ABOR will be having an initial meeting with the state Legislature's Appropriations Committee, which oversees annual funds to state agencies, so Klein said they will begin to get a sense of what the Legislature will do money-wise for public universities.
She also mentioned sitting down with Brewer to discuss what long-term funding should look like, and discuss that more money needs to be added to the budget in order for her tuition proposal to kick off successfully.
"The affordability agenda is incredibly important...one of the biggest issues in higher education today," she said. "We are seeking the state's recommitment, so that, as the state recovers, they recognize how important our universities are to our future, not only students but to our economy as well."