(VIDEO: AZPM)
When the U.S. Senate passed a bipartisan immigration reform bill last June, many were hopeful to see comprehensive reform finally come to life. However, by the time it arrived to the House, the bill stalled, and immigration efforts died out by the end of the year.
In recent weeks, it's been hinted that this year could bring change to the country's immigration laws, but it is still unclear whether Congress will proceed. Any type of reform revival in 2014 would affect the lives of the reported 11 million undocumented immigrants living in the U.S., among them young men and women brought here as children by their parents - often referred to as DREAMers.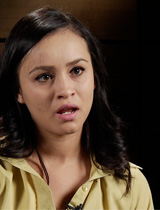 Jessica Garcia, a Pima Community College student and DREAMer who qualifies for the Deferred Action for Childhood Arrivals program. (PHOTO: AZPM Staff)
During Friday's broadcast of Arizona Week, two DREAMers shared their experiences as undocumented students, who continuously struggle to have a normal life in the only country they've called home, despite not having been born in U.S. soil.
Jessica Garcia, a student at Pima Community College, who qualified for the Obama administration's Deferred Action for Childhood Arrivals, is a Mexico native and was brought to the U.S. by her mother when she was 13 years old.
As she grew up, her initial plan was to finish school and then move back to her native country. However, she then decided to stay to continue her education, because she knew the opportunities she'd have here, would not materialize in Mexico.
"I cannot speak for my mom, but her actions were so that (we) could have a better life," said Garcia, who also works for Scholarships A-Z, a local organization that helps students of various immigration statuses fund schooling. "Mexico, we know, is not a safe place. And, as a woman, as a female role (model) for us, (my mother said) 'I don't want you to be there.' And she brought us over here."
Garcia said that, while she is thankful for the deferred action program, such is not a solution, because it is only useful to legally work in the country. "The obstacles is that we can't (easily) go to school or have a driver's license in Arizona." she said.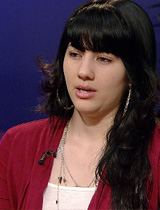 Sandra Lopez, a now DREAMer enrolled in Maricopa Community College, who previously spent three years apprehended in a county jail and an immigration detention facility. (PHOTO: AZPM Staff)
Sandra Lopez also came to the U.S. from Mexico as a child. The now 22-year-old graduated from Amphitheater High School in Tucson, and recently enrolled at Maricopa Community College. But prior to her status as a DREAMer, Lopez spent three rocky years apprehended in a county jail and an immigration detention facility.
At 19, Lopez was arrested after shipping a box with narcotics in behalf of a friend. She said she didn't know what was in the box, but she still had to deal with the consequences and was sentenced to five months in a Florence, Ariz. jail. After checking her immigration status, law enforcement realized Lopez was in the country undocumented, and deported her to Nogales, Sonora.
"I didn't know where to go, I didn't know anyone there, I hadn't even been there before," Lopez said.
After facing the dangers that lurk in the borderlands, she was able to reach out to U.S. border agents, who said they would help her, but instead charged her with trying to illegally re-enter the country. Lopez was then sent to the Eloy Immigration Detention Center in Eloy, Ariz., where she spent two and a half years, until being released November 2013.
"It was very hard to be incarcerated," said Lopez, who continues to fight her deportation. "There were more (undocumented people there) than (actual) criminals. I don't think they should keep us that long for coming back. Most of us come back for help. The U.S. (is good at helping us) but lately they have been kind of messing up, because they haven't helped us."
Both Lopez and Garcia agree that reform is also key to keep families together.
Garcia's father lives in Mexico, and while he legally can visit, it would make it easier if she, her mother and siblings were able to travel south of the border as well. "We just want to protect our families, keep them together," she said.
Lopez calls her family a "mixed status family," with her and her mother living here undocumented and her two younger siblings being U.S. citizens.
"To tear families apart is really sad," she said. "And I know there are thousands of families out there (just like mine)."