Gov. Jan Brewer kicked off the 2014 legislative session reinforcing child protection, education and business attraction as her top priorities, and urging the state Legislature to back her up.
During what was - as of now - Brewer's last State of the State address Monday, the governor revealed she had abolished Child Protective Services, replacing it with a cabinet-level position that would report directly to her, which came as a relief for child welfare advocates who argue drastic changes in the agency have been long overdue.
Business and education advocates praised her demands for quality education funding, as well as tax cuts and other fixes to attract more businesses to Arizona.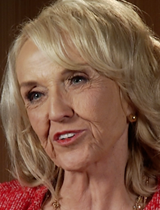 Gov. Jan Brewer. (PHOTO: AZPM)
For Friday's broadcast of Arizona Week, Brewer said she wants to see improvements in those three areas the remainder of her term. Business and child welfare experts joined in the conversation, and shared the results they expect to see.
When news arose that CPS had ignored about 6,500 child abuse reports, the governor said she was angry and disappointed because the agency, and consequently the state, had failed those children. But, in a way, she said, she saw it coming.
"Having been a public servant for more than 30 years, CPS had always been an issue," Brewer said. "(The Legislature) will need to fund the people that we need to ensure that this never happens again in the state of Arizona. You are never going to eliminate child abuse...there is evil people out there, but we have got to be prepared and ready if there is a report that it is investigated, and that child is protected."
David Higuera, Southern Arizona director of the Children's Action Alliance, praised Brewer's creation of a new Division of Child Safety and Family Services, which will replace CPS under the leadership of Charles Flanagan, former director of the Arizona Department of Juvenile Corrections, and who'll be reporting to Brewer.
David Higuera, Southern Arizona director of the Children's Action Alliance. (PHOTO: AZPM Staff)
"The governor sent a very good signal in terms of a shift in accountability and a shift in the seriousness...in this issue," Higuera said. "We believe it is a step in the right direction, and we are eager to work with the governor, her staff, the legislators to make sure the changes, desperately needed, are brought as fast as possible."
Higuera also said the right leadership and good funding will play key roles in the new agency's success.
In response to people saying, "This is nothing but a name change," Brewer said changes will not occur overnight, but that she will make sure Arizona becomes a national model for the child welfare system.
Business luring was also a highlight in Brewer's address, where she said a good option to attract more businesses is to eliminate a sales tax on the energy manufacturing companies use.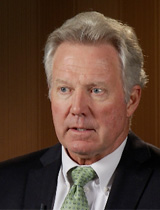 Michael Varney, president and CEO of the Tucson Metro Chamber. (PHOTO: AZPM Staff)
Mike Varney, president and CEO of the Tucson Metro Chamber, said that giving these companies that incentive will be influential in their decision to establish branches in Arizona. He explained that when companies look at the profile of certain communities they're considering for business, amenities, such as low taxes, carry a lot of weight.
"Luring business here, asking companies to invest in Arizona is a great way to grow," he said. "We, nationally, want to try to grow in certain sectors, certain areas that will bring high-paying jobs to our state, and especially to Southern Arizona. The governor has taken some great steps to make Arizona more attractive (to business)."
Brewer looked back at when she stepped up as governor, and the state had a $3 billion deficit, which since then has dramatically improved, she said. Varney, too, agreed that the economy has gotten better, and expects more improvements in the future.
"My legacy will be that I inherited the worst budget in the U.S., the worst budget deficit in the country, a $3 billion deficit, which we corrected, and while we were doing that, we lowered taxed...addressed education reform...mental health...and CPS," Brewer said. "I think it is an enormous record (that I share with a lot of people)."
Brewer said there are still many things in the agenda she'd like to see completed, so she may consider running for a second full term. She will make her decision some time in February, she said.