Listen:
Tucsonan Ibrahim Younis arrived to the Philippines merely three days after Typhoon Haiyan struck the nation of thousands of islands.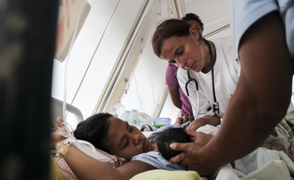 Médecins Sans Frontières, Doctors Without Borders, psychologist Luana Giardinelly, who is an Italy native, talks to patients in the waiting area of Guiuan's rural health unit during consultations. As part of the MSF mental health program, psychologists raise awareness about mental health issues and normal reactions to an abnormal event, such as the typhoon.

Fracois Dumony, Médecins Sans Frontières
The country was so congested with aid workers and destroyed infrastructure, it took him quiet some time to even get out of the airport.
Younis works with the international relief agency Doctors Without Borders and is coordinating the organization's medical services on Leyte Island, the hardest hit of the typhoon-struck Philippine islands.
He recently said the roads are being cleared to become more passable, communication infrastructure is being repaired, and the medical needs are returning to common illnesses as typhoon-related injuries begin to mend.
Younis spoke with Arizona Public Media via a spotty phone connection that went down a few times during a 30-minute window. The phone line he used had only been restored days before the call.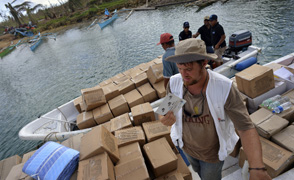 Gilles Favier coordinating the loading the loading of NFI kits on two small boats to be distributed on nearing islands at the Guiuan port.

Julie Remy, Doctors Without Borders
Near the city of Tacloban, roads were 90 percent to 100 percent destroyed when he arrived, he said. But lately, things have improved "very fast."
Younis attributes the progress to the country's experience dealing with natural disasters.
When he arrived he was treating fractures and cut wounds, but he said now the medical needs are returning to more routine maladies, such as colds, upper respiratory infections and fevers. On the outskirts of the cities, or in more remote villages, his colleagues are still finding some people who have broken bones that haven't been treated because the people couldn't get to a medical facility.
"Outside the municipalities, (we still) see very slow aid," he said. "For us with Doctors Without Borders, we basically have primary and secondary healthcare."
One aspect of the public health challenge is water and sanitation, he said. Some areas depend on electric power for water pumping, and a clean water supply is essential to public health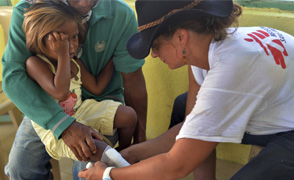 Jasmine has her wound dressed at the mobile clinic in Victory Island, Philippines.

Julie Remy, Doctors Without Borders
"Yes, you can treat people, but if their homes are not restored very well, or they don't have roofs — and it's still raining here — that can have an effect on the under five-years-old children," Younis said.
Medical treatment in a disaster includes setting up mobile clinics, offering mental health care, water infrastructure, and providing essentials, such as blanket and kitchen sets.
"We try to support them with minimum shelter materials, hammers, nails, plastic sheets, in order for them to restore their livelihood," Younis said.
Younis encouraged Tucsonans to help people who've lost everything.
"They should support the reconstruction efforts," he said. "There is a long way to go for them to restore their livelihood."
He said one way to put the storm in perspective is to think about one of the most destructive storms to hit the United States: Hurricane Katrina.
"If I compare the scale, this is much, much bigger than Katrina, this is like four or five times," he said.