(VIDEO: AZPM )
When the sun sets over Tucson and the skies start to darken, Dionisio de la Viña and Nina Duckett get to work.
The brother and sister duo spend their evenings in service, volunteering their time to educate the community about a subject close to their hearts.
"Sometimes one volunteers for causes that are very close to home," de la Viña said. "And we have in the family several people who suffer from various types of mental illness."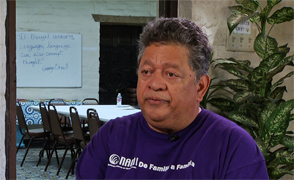 NAMI volunteer and book club veteran Dionisio de la Viña created and leads the mental health book club with his sister, Nina Duckett.
To learn more about the illnesses affecting their family, and to feel more empowered in responding to the family's needs, Duckett and de la Viña made mental health their cause. They have volunteered with Southern Arizona's chapter the National Alliance on Mental Illness, for years, leading support groups and educational programs to support those affected by mental illnesses.
But earlier this year, they decided to explore mental health in a somewhat different way: through a book club.
"We had been already working with NAMI a year to a year and a half when it dawned on me that I'd been leading a book club—a regular book club, called LibroRaices, where we discuss Latino writers, and we've been doing it for 11 years," de la Viña recalled. "So I thought, why not a book club for people who are interested in mental health?"
De la Viña thought books about mental illness might offer a safe and welcoming way to learn about an often sensitive subject. So he was surprised to learn, he said, that Tucson didn't have such a book club, and that there are very few nationwide.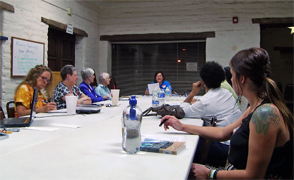 A recently formed, mental health-focused book club is growing into a vibrant community.
Duckett immediately supported her brother's idea, and the two launched the book club in spring 2013. Although the book club began with an educational focus, it quickly became a community, de la Viña said.
"People who belong to the book club, they find that this is a very good place for them to be with other people who share similar interests, and who have very much the same kinds of pains," he said.
Book club member Mary Christoph, who has a loved one coping with mental illness and substance abuse, said the group has given her a chance to connect with others who understand her experiences.
"The camaraderie, knowing there are others experiencing the same kinds of difficulties in their lives ... it really helps to have that shared experience," she said. "And so that's why I keep coming back."
The book club runs the gamut of ages, races and experience, from curious readers who are simply interested in mental health, to people whose loved ones live with mental illness, or who live with mental illness themselves.
Whoever they are, Duckett said they leave the club with a changed perspective—one that ripples through the community.
"The fact that we are doing this, and they tell their neighbors...their families and friends about our book club, it also means that we are playing a part in educating the community, which is, to me, why we do what we do," she said.
For now, the book club is a single, once-monthly gathering in a room offered to the group by the St. Philip's in The Hills Episcopal Church in north-central Tucson.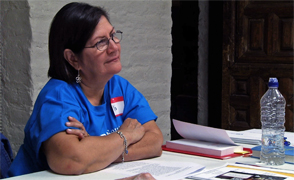 NAMI volunteer Nina Duckett leads a meeting of the mental health book club.
Without additional volunteers, Duckett said NAMI won't be able to support more book clubs, even though there's growing interest in them.
But she said she hopes to see similar book clubs eventually take root in libraries across Tucson, so that everyone can have access to the power that knowledge can bring.

"I think it really gives people hope, you know," Duckett said. "They really want to have hope, and I think that's one of the best things that has come out of the book club."