(VIDEO: AZPM)
Maj. Jason Ring is stationed at Davis-Monthan Air Force Base in Tucson. His six-year-old son, Alec, was identified with a pervasive developmental delay when he was 15 months old, and diagnosed with Autism at age three.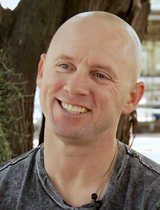 Maj. Jason Ring smiling during interview. (PHOTO: Bob Lindberg)
"All parents want to have a bond and a connection with their child, you're never quite sure how that's going to go when you first told your child is on the autism spectrum," Ring said. "On the one hand it was fear, it was scared of the unknown."
Ring found services for Alec through a special needs program at Davis Monthan. Among the offerings was a program called Therapeutic Riding of Tucson.

Since 1974, TROT has used horseback riding as a form of therapy for children and adults who are challenged by everything from blindness to PTSD.

"The first few lessons, Alec was terrified," Ring said "His first lesson, he spent the first few minutes just in tears walking around on the horse, so our goals shifted...to 'let's just get comfortable on the horse.' We spent weeks just learning how to relax and be confident on the horse and get to know your horse."
Melanie Roeder, Alec's riding instructor, said it is important to understand that therapeutic riding instructors are not therapists.
"...it's a little misleading in that, a lot of times, people think that we're therapists but we are riding instructors, and our goal is to teach riding to students to whatever degree they can learn," Roeder said.
She said it's common to work in partnership with families to shape the goals and expectations of each rider.

Ring wanted to help Alec communicate better, and to focus his efforts primarily on his social, emotional and cognitive skills. He said his son lacked confidence and the ability to connect with his peers. Even his own connection with Alec was lacking.
"...you lose something there between father and son, if you can't understand what your child is saying," Ring said.
Roeder taught Alec how to interpret horse language by observing the ears, the mouth, the tongue and the tail. Alec learned riding positions and patterns. The exercises improved his core strength and balance, he became more adept with his hand and eye coordination, and his memory sharpened.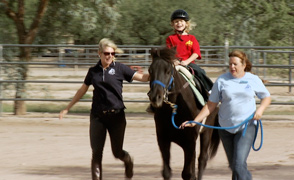 Alec riding Joey in full trot. Melanie is on his left. Vicky Zoerb, on the right, is his horse handler.

Bob Lindberg
Alec began to trust his horse and through that relationship and instruction from Roeder, a significant bond grew.
"I think for a lot of students, and particularly a lot of students with autism who have trouble relating to people, they have a very strong connection with the horse," she said. "...just being on the horse and being around the horse, enables them to open up in a way that they can't with people."
Alec has opened up over the past year, and reached many of the goals his father hoped for.
"Oh my goodness, (he's) talking all the time and it's like music to my ears," Ring said. "He can't stop talking, which is a beautiful thing, but being able to hold a conversation, not only at home but with others. Being able to identify the basic things like colors, being more self-sufficient, so it's like a transformation."
Melanie Roeder introduces Joey, the Icelandic pony that Alec rides during his therapy session.
Melanie Roeder introduces Joey, the Icelandic pony that Alec rides during his therapy session. (VIDEO: Bob Lindberg)