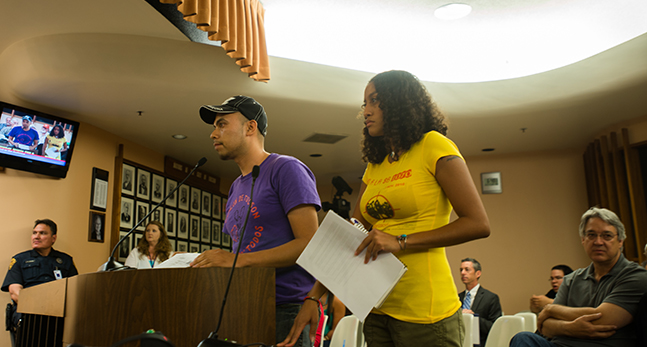 Leilani Clark, who said she was pepper sprayed at the Oct. 8 immigrant rights protest scene, prepares to address the City Council.

Yoohyun Jung
Listen
Dozens of immigrant rights activists asked the Tucson City Council Tuesday to change how Tucson police enforce Arizona's anti-illegal immigration law, SB 1070.
On Oct. 8, police officers called the Border Patrol after believing the two men stopped for a traffic violation were in the country illegally.
The incident brought people to the site to protest the officers' enforcement of SB 1070 and started a series of demonstrations.
"This incident is a direct display of the violence that takes place when you have this direct collaboration between local law enforcement and military," said Leilani Clark, who said she was pepper sprayed during the confrontation. "The Department of Homeland Security is military."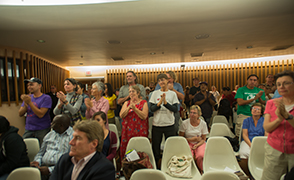 Immigrant rights advocates at Tuesday's City Council meeting protesting enforcement of SB 1070.

Yoohyun Jung
Clark, like many speakers at the council meeting, said the enforcement of immigration law by local law enforcement is separating the community.
"We will not stop the resistance against unjust laws like SB 1070, and we will continue to show opposition to laws that only separate families," she said. "We are calling actively for TPD to stop calling Border Patrol."
Council members did not address the public's comments but will discuss the issue at its Nov. 13 meeting, Councilman Steve Kozachik said.
"The relationship between our law enforcement and the local Latino community is absolutely going into the tank, and it is now becoming incumbent on us as a governing body to do what we can within the context law of the law," Kozachik said. "We can't go tell TPD to violate the law. People stand up there and say stop enforcing SB 1070 … we'll get sued. But we can do some things procedurally that will kind of ease the tension."
SB 1070 was signed into law in 2010, and its provision requiring police to question those suspected of being illegal immigrants and then contact federal authorities was upheld by the U.S. Supreme Court last year. That provision is known as Section 2B.
Andrew Silverman, an immigration law professor at the University of Arizona James E. Rogers College of Law, said at Tuesday's meeting that police should adopt procedures when implementing section 2B to comply with Tucson's "Immigrant Welcoming City" initiative.
"Now we have SB 1070, and that's what's put forward by law enforcement that we have no choice now," he said. "Well, we have a lot of choices under Section 2B, that is the 'show me your papers' section. There are qualifiers, like reasonable suspicion, that must exist when practicable."
Police Chief Roberto Villaseñor has said he opposes SB 1070 but the law itself requires his officers to enforce it.