(VIDEO: AZPM)
Health-care professionals, insurers and businesspeople are preparing for implementation of the Affordable Care Act, while the political debate continues over its financial viability and medical value.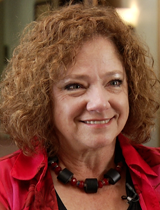 Dorothy Kret, owner DK Advocates, Tucson. (PHOTO: AZPM)
One of the biggest provisions in the law - operation of health insurance exchanges in all states to provide coverage for individuals and businesses - will roll out Oct. 1, and insurance plans under the exchange system will take effect Jan. 1, 2014.
Proponents say the exchange and other aspects of the law will improve health care, expand its reach to most of the 46 million Americans, including 1.2 million Arizonans, who now don't have insurance coverage and, eventually, reduce costs.
Opponents say federal expansion of its involvement in the health-care system will make it even more costly and won't improve care.
The arguments and logistics of how the plan is rolling out were part of the Arizona Week broadcast on Friday.
"Whether you like the Affordable Care Act or whether you don't, it's here. You've got to deal with it," said Dorothy Kret, owner of DK Advocates, a Tucson business. "And so, small businesses have to be on board by Oct. 1, and coverage needs to start by Jan. 1."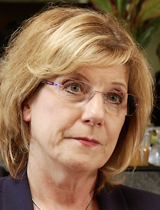 Kathleen Oestreich, CEO of Meritus, a health insurance co-op. (PHOTO: AZPM)
Kret, whose business provides training for low-skilled workers and digitizes masses of paperwork for other businesses, said she is looking forward to saving money for her and her employees by purchasing insurance on the exchange. Her estimate, after consulting with experts, is that she can cut in half the $58,000 a year that she and eight of her covered employees pay for insurance.
That can come about because the health insurance exchange will cover a much bigger pool of people, spreading out costs and making individual costs lower, said Kathleen Oestreich, CEO of Meritus, a non-profit cooperative that is among the businesses offering insurance on Arizona's exchange.
Oestreich said the lower costs and the expanded reach of insurance under the Affordable Care Act - one estimate is that all but 10 percent of Arizonans will be covered by some plan - is an essential part of the state's economy.
"I think, without (making) a political statement, that actually it is very, very important to the Arizona economy that people have health insurance," Oestreich said. " ... My personal belief is that whatever we do to ensure people have health-insurance coverage stabilizes the workforce, makes it more attractive for people to be employed in Arizona, for being able to bring businesses here and reduces the overall cost of health care for everybody."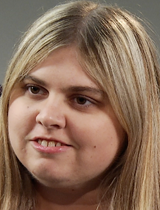 Christina Corieri, healthcare policy analyst, Goldwater Institute. (PHOTO: AZPM)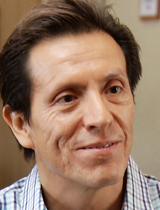 Francisco Garcia, M.D., director, Pima County Health Department. (PHOTO: AZPM)
But at what cost, some ask. Among them is Christina Corieri, healthcare policy analyst for the Goldwater Institute. She spoke at a forum on the Affordable Care Act in Tucson this week and said in an interview with Arizona Week beforehand that the projected costs of the law are not sustainable.
"On the whole, it's going to be a net negative," Corieri said. "You don't mess up a whole system, you don't harm a whole system to help the few. And that's what this has tried to do."
The better plan would be a free-market system in which the government's role is as small as possible in providing a safety net, she said.
The current system is what cannot go on, countered Francisco Garcia, a physician who is director of the Pima County Health Department.
"People will say, well, we could just keep doing what we're doing," Garcia said. "And we certainly could. The question is - is that a financially sustainable kind of model?"
Garcia argued that it is not, because it leaves too many people out of the system and doesn't bring about any way of curbing health-care cost increases.
Frequently asked questions about health insurance under the Affordable Care Act: Health care reform.