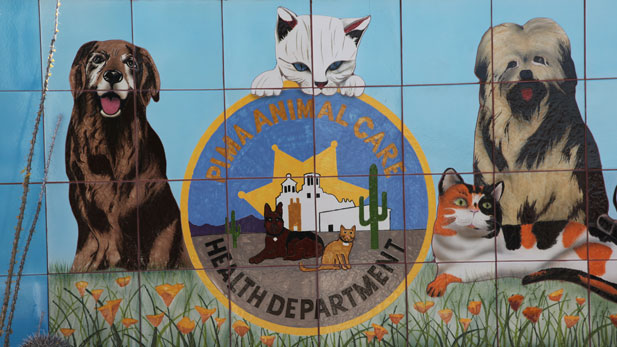 Mural outside of Pima Animal Care Center

Robert Rappaport
Listen:
The Pima County Animal Care Center euthanized about 30 percent of the animals it took in last year, or about 7,000 of the 23,000 it cared for.
An advisory committee has recommended changes that could reduce the number.
PACC, as is the case of many county departments, has an advisory committee, which can oversee the department's operations and plans. Such committees can make recommendations to departments, but they are non-binding.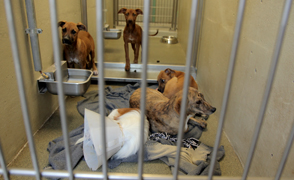 Dogs at the Pima Animal Care Center

Fernanda Echavarri
One issue is staffing, said Jack Neuman, chairman of PACC's advisory committee.
The committee said it recommends more oversight for inmates working at the center, and a staffing survey to determine appropriate staffing levels.
Neuman said he predicted the survey is likely to show the center is understaffed, but in any case it will show what the center needs.
Another issue is the health of the animals, Neuman said. The sick bay for dogs is too close to the kennels with the healthy dogs. This helps the spread of kennel cough, a contagious canine illness.
"Right now there are 16 kennels in sick bay, and those 16 kennels will sometimes have to house up to 30 to 40 dogs," Neuman said. "Normally, one kennel would house one dog, but if you did that, when dogs are getting ill from kennel cough...there'd be no place to put them, and...that can lead to euthanasia just because of a kennel cough."
Moving the sick bay kennels farther away from the other kennels, or even to another building, could help prevent the spread of disease, Neuman said. Consequently, it could also help reduce the number of animals PACC euthanizes each year.