Listen:
Sangmi Park, a 24-year-old South Korean university student, and her three companions recently visited Tucson to learn about how U.S. society provides support for children whose parents are in prison or jail.
The visit, funded by technology company LG, was part of its LG Global Challenger program that sends Korean students abroad to learn and bring knowledge back to their country.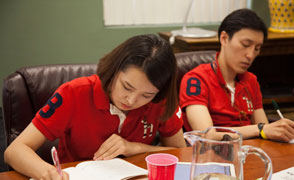 South Korean students Sangmi Park, left, and Youngho Ju visit the Pima Prevention Partnership to learn about the organization's services for children of incarcerated parents.

Laura Palmisano
"My friends [and] I talk about the welfare systems a lot because ... Korean society has lots of interest in welfare systems but we found out there is a blind spot," Park said. "Children of incarcerated parents are in the blind spot because they don't have any benefits or protections from society. So we think that we have to focus on these children and we have to help them."
Park and her team visited New York, New Jersey, Alabama, Washington and Arizona on a two-week tour. Tucson was the last stop, and here, they met with staff from the Pima Prevention Partnership, an agency that provides services to the children of incarcerated parents and their caregivers.
Claire Scheuren, deputy director for the nonprofit, said the South Korean undergraduate students contacted her via email.
"They Googled children of incarcerated parents and apparently the Pima Prevention Partnership came up several times" Scheuren said "They found us on the Internet."
The organization arranged a 1 ½-day tour for the students. They met with Tucson Mayor Jonathan Rothschild and U.S. Rep. Raul Grijalva, toured Pima County's teen and juvenile courts and learned about the services the Pima Prevention Partnership offers.
The students also met with Rosa Borbon, who has been caring for her granddaughter since the girl was 8 days old. She is now 12.
"I love my son, but I don't love what he has done," Borbon said. "He has been incarcerated off and on since he was 18 years old. He will be 52 years old when she is about 15 years. That's when he will be coming out."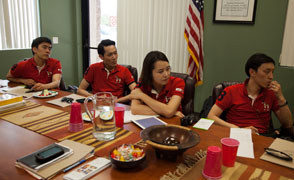 From left to right, South Korean students Seonwoong Kim, Cham Jung, Sangmi Park and Youngjo Ju at the Pima Prevention Partnership.

Laura Palmisano
Park, a senior at a Kookmin University, said before her trip to the U.S., she didn't think about the difficulties caregivers for children with incarcerated parents face.
"I think [society] and community support is really important," she said. "[That's what] I learned from [Borbon's] story."
Park said back in South Korea, her team will write a report about what they learned as part of the LG Global Challenger program, a competition for Korean university students.
She said 30 teams are competing, with the winners eligible for LG internships or jobs. She said she wants to work for the division of the company that provides social services to community.