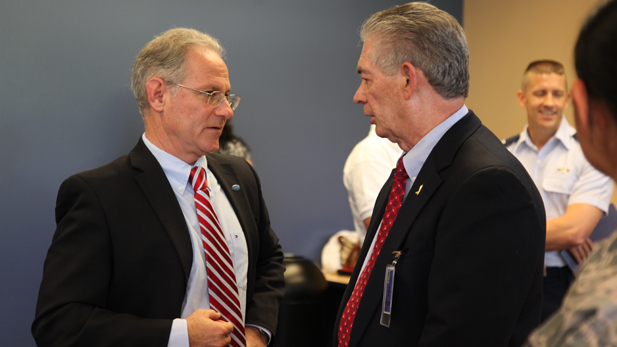 Tucson Mayor Jonathan Rothschild talks with Mike Grassinger, president of the DM-50, a support organization for Davis-Monthan Air Force Base. The two are working on the city's goal to end veterans' homelessness by 2015.

Andrea Kelly
Listen:
Teresa Ramsey struggled with homelessness after she finished her service to the country.
"In September 2010 things weren't right in my life," she said.
But, with the services of the VA Hospital, COPE Community Services, and Old Pueblo, she was able to get the help she needed to rebuild her life.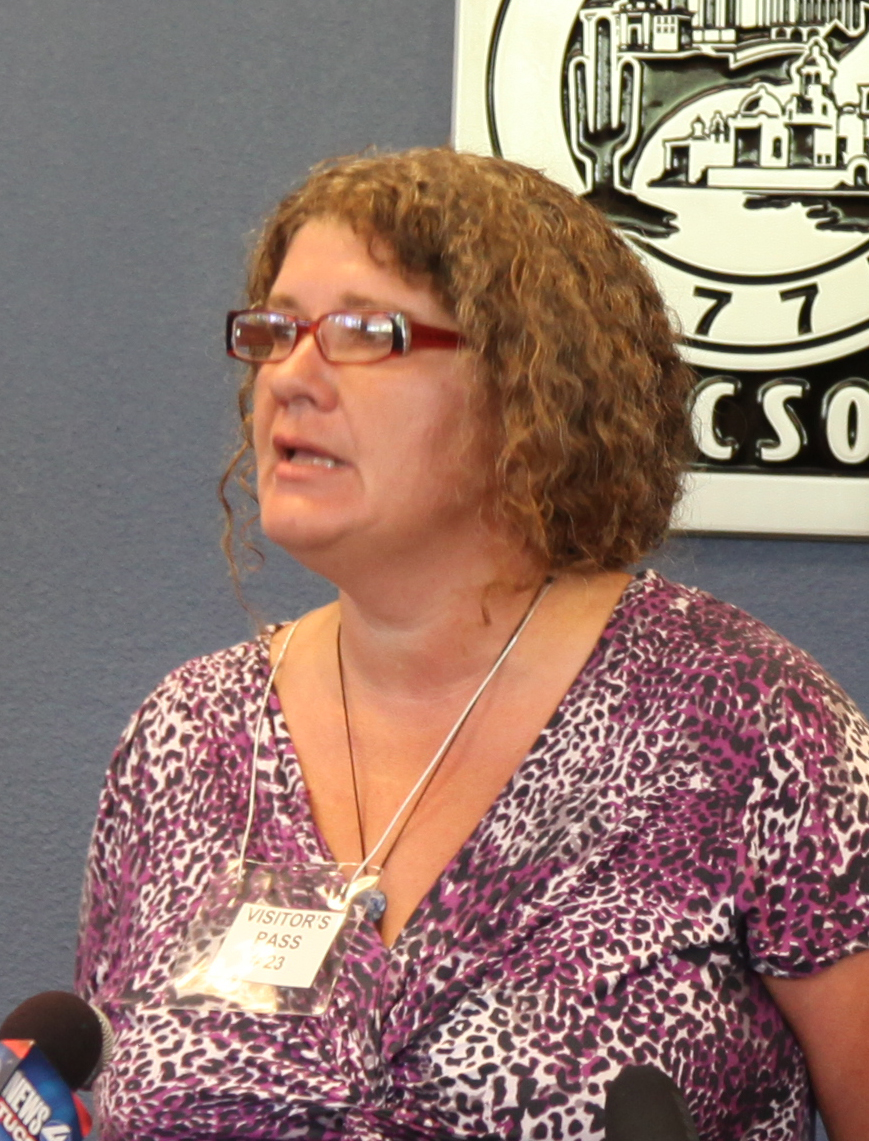 Teresa Ramsey says she is an example of how programs to end veterans' homelessness could work. (PHOTO: Andrea Kelly)
Ramsey is an example of what Tucson Mayor Jonathan Rothschild said he thinks the city can do. He has accepted a challenge from the federal government to end veterans' homelessness in Tucson by 2015.
The Obama Administration named Tucson one of 25 cities in the country that can accomplish that goal.
It will take targeted services, the mayor said.
"I can tell you we have veterans who are students...living in their cars, and it's part of the population that we have to reach," Rothschild said at a news conference announcing the goal.
Part of the challenge is identifying each homeless veteran, said Sarah Taouil, who works at CODAC Behavioral Health Services.
A recent count of homeless veterans identified 353 of them, Rothschild said. Taouil said those veterans first need homes. After that, other services begin, such as help finding work or getting medical care.
Bu,t in order to house those 353 veterans by 2015, along with all the others who are finishing their service as the troop draw-down in Afghanistan continues, Tucson needs to house 52 veterans a month, Taouil said.
Taouil works with 51 Homes, an organization focused on housing as the first priority. Among vets, those who are at a highest risk must be given a priority for housing, she said.
"Our most vulnerable community members are folks who are experiencing chronic homelessness," she said. "This is long-term homelessness with a disabling condition. These are the folks that are at the highest risk for early mortality on the streets, and they also are high (users) of costly community resources, emergency medical care, interaction with law enforcement. So, we need to move those folks to the top of our list."
Among the costly community resources is emergency response, said Joe Gulotta, assistant chief of the Tucson Fire Department. His department, and the Tucson Police Department, frequently respond to calls that pertain to homeless people.
The departments can provide resources for people in need, but there's only so much they can do to immediately respond to a call for help, Gulotta said.
"We're limited as to what we can do," Gulotta said. "Jail and the hospital may not be where these folks need to go."
A community-wide effort involving the city, nonprofit agencies and Davis-Monthan Air Force Base is one way to reduce the need for other services, he explained.
The goal will also require help from people, not just agencies, Rothschild said. After a veteran is in a home, "they need beds, chairs, dishes, cleaning supplies."
The Red Cross of Southern Arizona is also stepping up, said Richard White, the chapter director.
Already, the chapter puts an emphasis on hiring veterans whenever possible, White said.
"We want veterans to be able to have a healty stream of income so they can sustain living in the housing that we are arranging for them," he said.
Davis-Monthan officials also said the goal is a priority. The city has been advised to plan housing about 1,200 homeless veterans, although the official count is 353. That's because some people will need assistance more than once, and the numbers are expected to rise, Rothschild said.
Veterans make up about eight percent of the population, but federal statistics show they are about 16 percent of the homeless population. Helping them means helping all homeless people, Rothschild said.
"Part of what this goal is to do is to increase the infrastructure for all of the homeless of the community, when we support Primavera, the Salvation Army, Red Cross, CODAC, COPE, there are going to be others in the community that are going to be supported," he said.
Ending veterans' homelessness is one step toward solving chronic homelessness by 2020, Rothschild said.
Ramsey said she knows firsthand the effort will make a difference.
"I cannot tell you how grateful I truly am to have been part of this program, and I, really, am looking forward, mayor, to...moving forward, and bringing all these homeless veterans...," she said to Rothschild. "I know that the help is out there, and I pray that they (homeless veterans) reach out for it."